Retain Your Independence with a Residential Stair Lift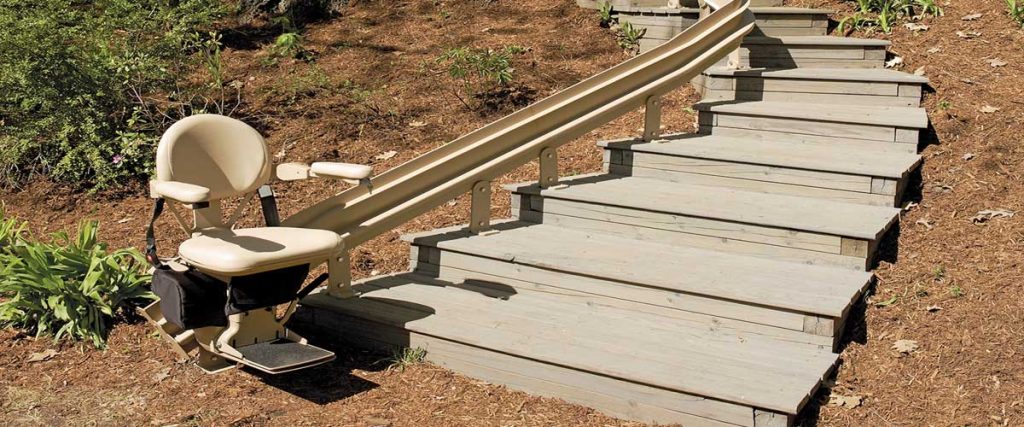 A residential stair lift helps older adults and people with disabilities get around their multilevel home safely and comfortably. In the year 2000, the Center for Health Statistics reported that people age 60 and over represented 17.2% of the New Jersey population and that this proportion was expected to grow to be 25.7% of the population by 2030. As people age, staying mentally alert, independent and as mobile as possible are important goals. Stair lifts are a cost-effective way to enhance access in your home.
A 2014 Con­sumer Reports survey of 2,066 Americans age 50 and older revealed that 55 percent of the respondents wanted to stay in their own homes. The survey also reported that mobility decreases dramatically as a person ages – 80 percent of the respondents said they were less active than they were ten years ago. While a fitness plan that can help maintain strength, flexibility, and balance is vital, older adults would also benefit greatly from accessibility equipment that can help them overcome staircase barriers and get around their homes on their own.
National Seating & Mobility offers quality residential stair lifts from established manufacturer Bruno. These include straight and curved stair lifts for the indoors and outdoors. Exterior stair lifts are specially equipped to withstand harsh weather conditions. The standard features of most models include:
Swivel seat
Adjustable seat height, which is useful to transfer from a wheelchair
Continuous charge strips along the entire rail
Call stations that allow you to 'call' the lift to the top or bottom of the stairs
Visual diagnostics for instant unit status
Offset swivel seat, making the entry and exit position at the top landing safe and easy
Flip-up arms, seat and footrest
Key switch that can be removed to prevent unauthorized use
Underpan safety sensors to detect obstructions on the lift's path
Over speed governor or emergency brake
Lap seat belt
Soft start and soft stop
Installing an elevator is not feasible in a home with space constraints. A stair chair lift is the ideal solution when it comes to addressing the challenges posed by a staircase in your home. Straight stair lifts with perch seats are ideal for those with restricted movement in the knees or hip joints. Purchasing accessibility products from National Seating & Mobility would ensure smooth and quick installation and efficient maintenance support.
Did you know that 55% of all senior fall injuries happen inside their house?* As people age, they often lose some level of mobility, strength,…
Talking to your aging loved ones about their mobility challenges can be difficult. After all, you've likely spent your whole life seeking advice from your…
How NSM client Brandon Winfield is using technology to help make the world more accessible As creator of the iAccess.Life app, Brandon Winfield is used…