How to Talk to Aging Loved Ones About Getting a Stair Lift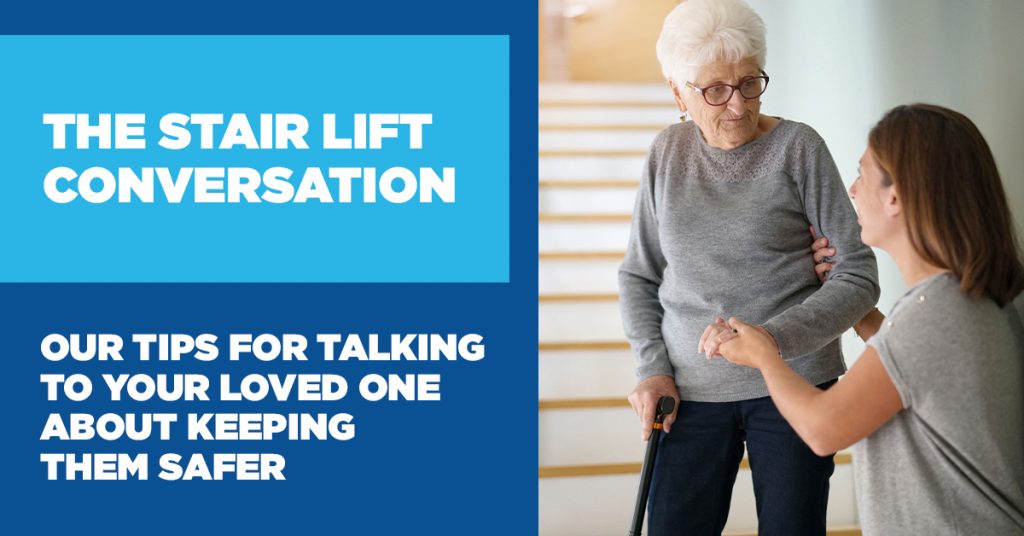 Talking to your aging loved ones about their mobility challenges can be difficult. After all, you've likely spent your whole life seeking advice from your older relatives — be they parents, aunts, uncles, or grandparents. Discussing the dangers of a loss of mobility can feel like an odd role reversal that not everyone is comfortable with having. Some older people may feel hesitant to even admit they have trouble going up and down stairs, but the reality is that even a small trip or fall on the stairs can be hazardous.
Here's what you can do to broach the conversation.
Choose the Right Time and Place – This may go without saying, but try and choose a time when there are no distractions. You want to have their full attention. Ideally, you want to have this conversation in their home. You can use their staircase as a visual aid, showing where the stair lift would be installed and use references to give them an idea of what it might look like. For some, all it takes is being able to visualize the stairlift to make it less intimidating.
Be Empathetic – Start the conversation by thinking about how you would feel if the roles were reversed. It's not pleasant being told that you can't move as well as you once did. Leading with empathy, respect, and understanding will go a long way in getting your loved one on board. Just acknowledging that this may be a challenging topic can help clear the air and make way for a productive discussion.
Do Your Research – Your loved one is likely going to have lots of questions. It's in your best interest — and theirs — for you to have the answers whenever you start the conversation. How much do stair lifts cost? Can they be installed on curved staircases? How long do they take to install? The answers to all of these are readily available, but you don't want to bog down your conversation by looking them up. By being prepared, you are helping to instill confidence and alleviate your loved one's concerns.
Don't Forget to Listen – You are going to go into this conversation with a lot you want to say. Don't forget to take time to listen to your loved one as well. If they feel like they are being talked at instead of talked to, they may reject the case for a stair lift before you even begin. Remember, this is a conversation, not a presentation. If your loved one is being quiet, ask them what they think. Their perspective and concerns are important.
Present Options – Stair lifts are not a one-size-fits-all solution. There are several choices you need to make as you consider what kind of lift you want. Involve your loved one in this discussion. The more ownership they have in it, the more agency they will have.
Offer Support – This will look very different for everyone. Some people have highly independent loved ones who will want you to only step in when absolutely necessary. Others will prefer to hand off the project and not worry about the details. You know your family better than anyone, so be prepared to offer the appropriate level of support for what they need.
Respect Their Decision – Ultimately, the decision should be your loved one's to make. Respect their choice, even if it differs from your initial suggestion. There is always the chance to circle back and ask them about it again later. Or they may very well change their mind after they've had time to think about it. The last thing you want is for them to feel forced into something they don't want to do.
Follow Up – Once the stair lift is installed, be sure to check back in and see how they like it. See if they have any questions or if there's anything you can do to help them operate it better. A stair lift isn't going to do them much good if they never use it.
Remember that the key is patience and open communication. This conversation is a delicate balance between empathy and prioritizing their safety, but it is a conversation well worth having.
Want to learn more about getting a stair lift?
Getting a stair lift is a big decision, but our team is ready to support you in your research and answer any questions you may have. If you're ready, we can even provide you with a free quote. Reach out today!
Limited Time Offer on Bruno Stair Lifts:
For a limited time only, you can save $200 on all Bruno stair lifts and 40% off upgrades.* Enter your information below for a free quote!
**Offer valid on all new Bruno stair lifts (straight and curved stair lifts) purchased between November 15, 2023, and December 31, 2023. Offer excludes stair lift rentals. Stair lift upgrades include power and larger footrest upgrades, larger seat pads, seat color options, and additional repeater remote and control upgrades. Medicare and Medicaid beneficiaries are not eligible to receive this offer.
Did you know that 55% of all senior fall injuries happen inside their house?* As people age, they often lose some level of mobility, strength,…