Renting a Wheelchair Ramp – Important Things to Consider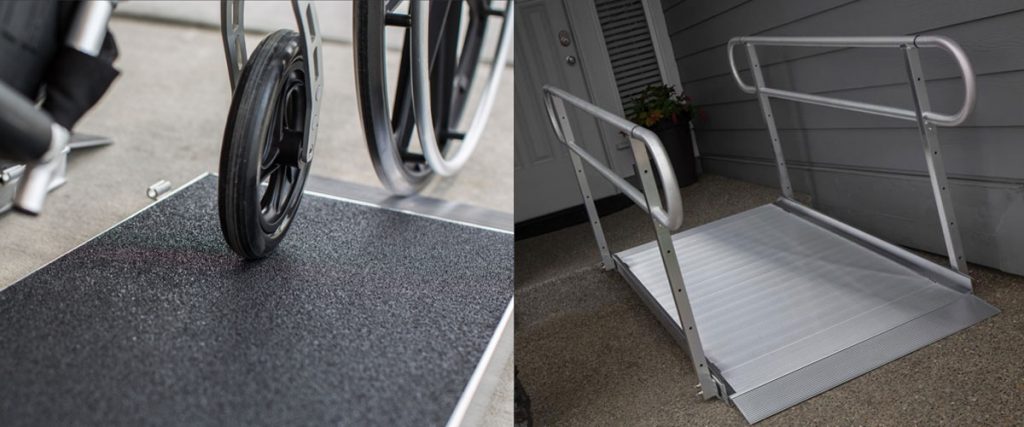 Wheelchair ramps are easy-to-use accessibility solutions that enable elderly people with mobility issues to enjoy complete freedom to move in and around their home safely. These devices help overcome the barriers posed by stairs, raised thresholds and landings. One of the major benefits associated with these ramps is that they are extremely durable and can be installed and removed quickly. Wheelchair ramps come in different types and include custom, modular and portable ramps. National Seating & Mobility offers an extensive range of wheelchair ramps for homes, institutions, and commercial buildings. Renting a ramp is a great option for temporary requirements. Ramp rental options are useful for short-term rehabilitation, recovery after a major surgery, people with disabilities, rental properties, and business under construction where in a temporary ADA ramp is needed.
Here discussed are a few things to consider while choosing rented ramps for the elderly –
Type of requirement – Wheelchair ramps come in a variety of types and sizes, and it's important to choose one that meets your specific needs. Measure the area where ramp has to be set up and provide these measurements to the ramp rental company. This will ensure safe and quick custom installation. Safety aspects are another important area that needs to be considered before choosing a ramp for the elderly. If your need is to use the ramp till a person recovers from a surgery, consider renting the ramp for the entire time of your expected recovery (with the option to add weeks or months). On the other hand, if you are choosing a rented ramp for a guest who uses a wheelchair, install the ramp a few days before the person arrives.
Adherence to ADA specifications – The Americans with Disabilities Act (ADA) has provided specifications on how to install the ramps. These include – how wide ramps should be the maximum slope and rise, how wide landings should be, and how high handrails are placed. It is important to adhere to these regulations, as they have been put in place to keep wheelchair users safe while using ramps. Make sure that all these ramp specifications are met correctly.
Ramp rot – You need to check for rust and corrosion before you rent a ramp. Check for rust at the bottom part and other places that may not be as obvious. Ramps for wheelchairs if made from wood or metal will eventually have rotting and rusting problems and are not safe to use.
Weight capacity – Not all ramps are designed to hold the same amount of weight. While renting ramps, make sure to consider the total weight capacity that the device can hold. This may be especially important if you are choosing folding wheelchair ramps or portable wheelchair ramps. Again, considering this aspect prevents injuries and saves you from wasting money on a ramp that you can't use properly.
Proper sealing – While choosing a ramp for outdoor use (especially one from the wood series), make sure it is sealed properly. Sealing may make the wood ramps weather resistant and holds off decay for years in some cases. If not sealed properly, the rain, snow, and sun exposure pile up against it and causing the wood to rot and fall apart, making it extremely unsafe to stand on. Prevent major accidents by putting this requirement at the top of your used wheelchair ramps list.
Choose a reputable provider – National Seating & Mobility employs factory-certified service technicians who will evaluate your property to install the ramp that best suits your requirements. Make sure that ramp removal is also done by professionals. Include the ramp removal procedure in your contract with the rental service. While installing and removing a ramp, it is important to make sure that there is no damage to landscaping and exterior/interior fixtures.
Did you know that 55% of all senior fall injuries happen inside their house?* As people age, they often lose some level of mobility, strength,…
Talking to your aging loved ones about their mobility challenges can be difficult. After all, you've likely spent your whole life seeking advice from your…
How NSM client Brandon Winfield is using technology to help make the world more accessible As creator of the iAccess.Life app, Brandon Winfield is used…