National Seating & Mobility Installed a Commercial Aluminum Ramp for Lehman College, Bronx, NYC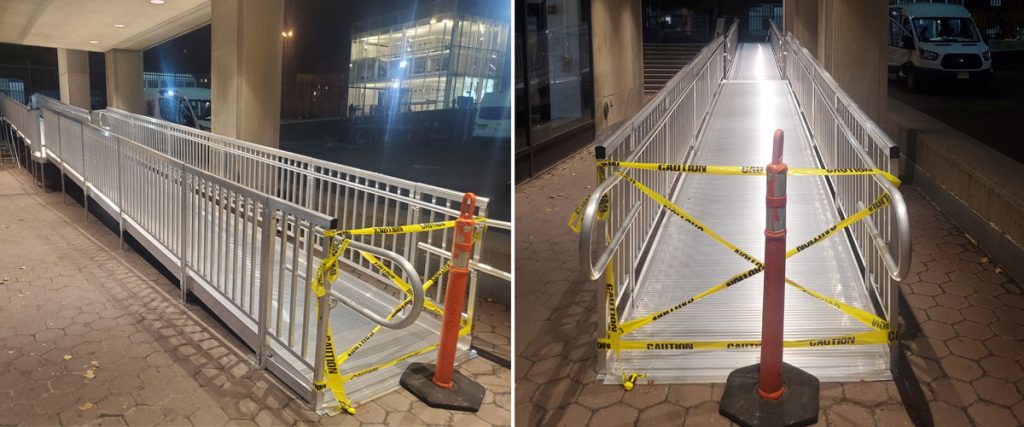 Accessing different areas and levels of a building can be challenging, especially when there are multilevel buildings and a large area to cover. Ramps make buildings more accessible and help people overcome barriers such as steps, raised thresholds and landings without any difficulty. National Seating & Mobility is a reliable and established supplier of quality ramps. We offer custom, portable and modular wheelchair ramps for both residential and commercial settings based on individual client requirements. Our team of experienced and trained technical staff provides professional installation services to ensure safe and efficient functioning of ramps.
Here is an instance where we provided perfect ramp installation support.
With more than 15,000 students and offering a wide range of academic courses, Lehman College is located on a tree-lined 37-acre campus. Students in this college required access to all buildings in the campus. The college management contacted National Seating & Mobility to suggest a perfect solution to improve accessibility. We installed a commercial aluminum ramp in this college, and were thus able to improve the students' access to all buildings.
First, our team of certified technicians visited and analyzed the site. Based on the client's individual requirements, we installed a commercial solid surface ramp with resting platform and continuous handrails. Modular construction of aluminum ramps was done quickly, in less than a day.
When compared to traditional concrete poured structures, our custom wheelchair ramps are more versatile. They meet all ADA requirements and can be designed to address any specific accessibility issues. In addition, our construction is cost effective. The college management was very satisfied with the service we provided. With our aluminum ramp installation, students in Lehman College can now easily and safely access any building in the campus.
National Seating & Mobility provides competitive pricing and professional installation support. We also offer dedicated maintenance services to ensure that the ramp system is performing efficiently all the time.
Did you know that 55% of all senior fall injuries happen inside their house?* As people age, they often lose some level of mobility, strength,…
Talking to your aging loved ones about their mobility challenges can be difficult. After all, you've likely spent your whole life seeking advice from your…
How NSM client Brandon Winfield is using technology to help make the world more accessible As creator of the iAccess.Life app, Brandon Winfield is used…