Making a Home Safer for Seniors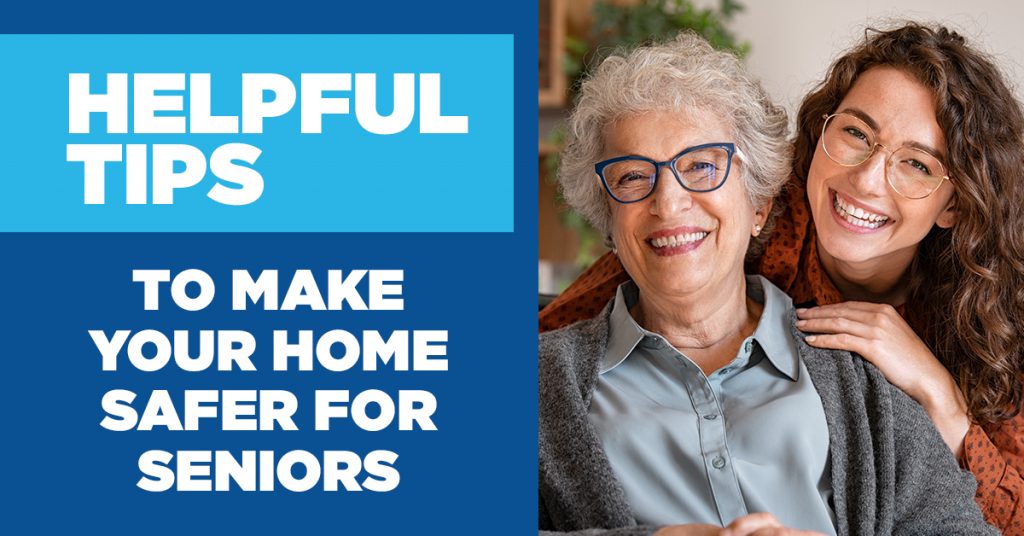 Did you know that 55% of all senior fall injuries happen inside their house?*
As people age, they often lose some level of mobility, strength, vision and coordination. Unfortunately, this can cause their home to become a dangerous place to navigate. According to a 2020 report published by the University of Michigan 32% of seniors aged 65-80 have to go to the emergency room at least once in the past two years. That number goes up to 45% if someone is in poor physical health.
Family members need to be aware of the potential dangers that seniors may face in the home environment and take adequate steps to prepare their homes to meet their needs. The good news is there are some steps you can take right now to improve your loved one's quality of life and ensure their safety inside the comfort of their own home.
Making stairs safe for seniors
For many seniors, moving around safely can be a major issue in homes with stairs. It doesn't matter if it is a single step or a staircase to a second floor, one wrong step can be an issue. When considering solutions for stairs, think about all the places in which you or your loved one may encounter them.
Ramps – Ramps are primarily used for people in wheelchairs to enter and exit their homes. Or they may use them for a small step down in their home, for example into a bonus or living room. However, ramps aren't just for those in wheelchairs. In some cases, a gently sloping ramp can be easier to navigate than steps, especially if someone has trouble lifting their legs very high. Ramps allow people to take smaller steps and minimize the time they need to balance on one leg.
Stair Lifts – For longer staircases, the most trustworthy solution is a stair lift. With these, seniors sit in a chair and then safely ride them up or down. What most people may not realize is how versatile stair lifts are. You can have them installed on both straight or curved stairs, and even outdoors. Stair lifts are an excellent tool for helping someone age in place, giving them access to their upstairs whenever they want it.
Make bathrooms safe for seniors
It's especially important to check bathrooms for hazards. Many falls happen in bathrooms because water can make the environment slippery and flooring surfaces are usually slicker. Bathrooms are also crowded with hard surfaces: the floor, the toilet, and the counter all represent places where someone could hit themselves and do additional harm if they fell.
Barrier-free showers – Barrier-free showers and walk-in tubs allow seniors to not have to step up and into the tub. Like stairs, the act of having to step up and balance on one foot — even just briefly — is often when disaster strikes. Barrier-free showers make it so seniors can step directly in, but are designed in such a way that the water still flows conveniently down the drain.
Inclined toilet lifts – Many aging seniors have difficulty lowering themselves down onto a toilet or standing back up when they are done. Inclined toilet lifts solve this problem and let people have their dignity back as they are able to use the restroom all by themselves.
Essentially, these motorized lifts extend up to meet someone as they stand and then lower down to a comfortable position. Whenever they are done, the inclined toilet lift can be engaged to lift them back up into a standing position.
Making rooms safe for seniors
The bathroom and the stairs are the places you need to check first, but they only represent a small part of the whole house. There are plenty of other precautions you can take to ensure your loved one's home is hazard-free.
Remove tripping hazards such as rugs and clutter in walkways.
Rearrange furniture to create ample open space and clear passages.
Place all items properly so that they are easily accessible.
Ensure bright lighting to avoid tripping hazards.
See that outdoor walkways, doorways, stairs and entrances are clear.
Keep electrical or telephone cords out of areas that are frequently used.
Make sure that all staircases in the house have a non-slip surface and good lighting with switches at the top and bottom.
As people become older, their safety needs also change, and that's okay. The important thing is that we adjust their living spaces accordingly so that they can age safely in the comfort of their own home.
You can help make your loved one's home safer
Everyone has different mobility needs. Whether it is a wheelchair ramp to get inside or bathroom modifications to help make it less hazardous, we're here to help.
imited Time Offer on Bruno Stair Lifts:
For a limited time only, you can save $200 on all Bruno stair lifts and 40% off upgrades.* Enter your information below for a free quote!
**Offer valid on all new Bruno stair lifts (straight and curved stair lifts) purchased between November 15, 2023, and December 31, 2023. Offer excludes stair lift rentals. Stair lift upgrades include power and larger footrest upgrades, larger seat pads, seat color options, and additional repeater remote and control upgrades. Medicare and Medicaid beneficiaries are not eligible to receive this offer.
Did you know that 55% of all senior fall injuries happen inside their house?* As people age, they often lose some level of mobility, strength,…
Talking to your aging loved ones about their mobility challenges can be difficult. After all, you've likely spent your whole life seeking advice from your…
How NSM client Brandon Winfield is using technology to help make the world more accessible As creator of the iAccess.Life app, Brandon Winfield is used…