Key Factors to Consider When Buying an Exterior Stairlift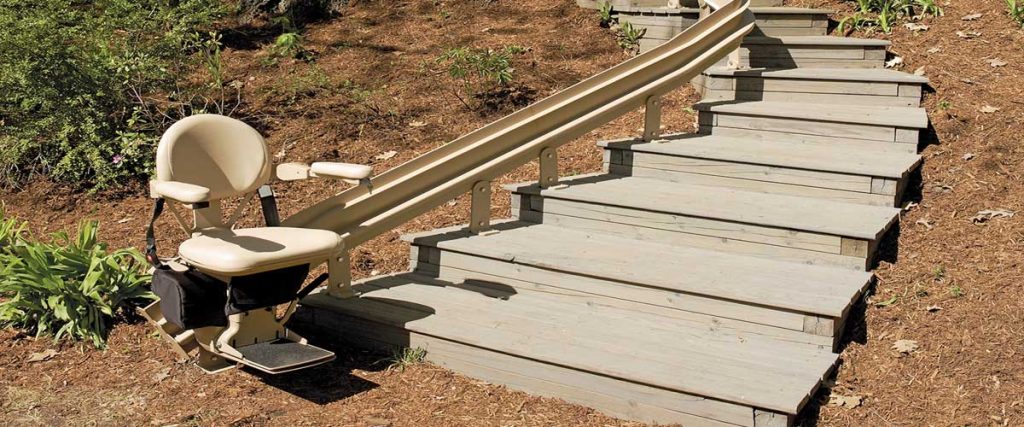 Negotiating a flight of stairs that lead from the doorway or porch to the garden, driveway or garage is a challenging task for most people with mobility issues. Exterior stair lifts are designed to address this problem. National Seating & Mobility offers high-quality models of stair lifts for the outdoors in a wide range of styles and configurations. Installed on outdoor stairs, exterior stair lifts help people move up and down the stairs easily and independently in a seated position. These devices are made of weather-resistant materials.
Here are the key factors to consider when buying an exterior stair chair lift –
Type of stairs – Outdoor stairs may be either straight or curved. Choose an outdoor system that suits your stairway configuration and environment.
Guide rail or track – Stair chair lifts travel along a guide rail made of aluminum or steel. A rack and pinion drive system is a good choice. Modern devices come with anodized rails to prevent corrosion. Take care to avoid outdated cable hauled systems as they can lead to operational problems in the long run. Cable drive stair lifts are also louder and shakier than rack-and-pinion stair lifts.
Carriage – The carriage unit drives the seat up and down the stairs. It is guided by rollers (that run on the rail) to make it travel in straight line. Check whether the carriage has a folded structure and the rollers have sealed ball bearings to ensure that they roll smoothly over the lift. Never choose a stair chair lift with plastic rollers or aluminum die castings for the chassis structure as they can crack or break over time.
Seat cover – The seat cover keeps the lift's seat clean and dry for use. Seat covers should be waterproof and be able to withstand harsh climatic conditions.
Position of travel – The position of travel — seated or perched — is an important factor. If the user prefers perching, check whether there is enough headroom for the device to travel up the stairs.
Safety features – Top quality outdoor stair lifts come equipped with a wide range of safety features such as seat belt, auto swivel seat, slack-cable brake w/switch, retractable seat belt, emergency stop button, foldable footplate, obstruction sensors, and over speed governor that ensures a safe and comfortable ride.
Remote control – A remote control is important if multiple users are expected to use the lift. It will allow the stair lift to be called up or down, depending on where the person is. Many systems come with two remote controls, so that you can keep one downstairs and one upstairs.
The best option when it comes to buying a stair lift is to partner with an established dealer in accessibility devices. National Seating & Mobility will ensure the services of factory-trained professionals for customized installation of your device as well as efficient maintenance support.
Did you know that 55% of all senior fall injuries happen inside their house?* As people age, they often lose some level of mobility, strength,…
Talking to your aging loved ones about their mobility challenges can be difficult. After all, you've likely spent your whole life seeking advice from your…
How NSM client Brandon Winfield is using technology to help make the world more accessible As creator of the iAccess.Life app, Brandon Winfield is used…