How Will You Get In and Out of Your Home in Your Wheelchair?
Just because you're in a wheelchair does not mean you have to stay at home—even when there are steps involved. There are multiple accessibility tools to help you go safely in and out of your own residence as independently as possible. Ask your local NSM professional to help you decide which solution is the best fit for your unique space and mobility limitation. There are some great choices to give you and your caregiver more freedom to go where you want when you want.
Wheelchair Ramps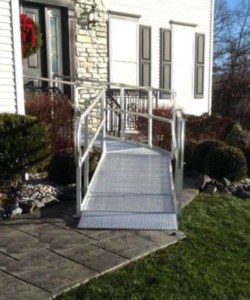 Wheelchair Ramps are the most universally-used product to grant easy access in and out of your home. The highly rated National Ramps we carry are available in wood, heavy steel, or lifetime aluminum which offers different price ranges and benefits. All our ramps meet all ADA safety codes to give the safest slope, measurements, and anti-slip flooring. Our ramps are designed for function and beauty. The wood can be stained or painted. The steel and aluminum are available in choices of powder-coated colors to complement your exterior. There are small portable ramps to access a single step outside your home. Whether you need to rent a ramp for a short recovery or purchase for long-term use, our professionals can measure and install the perfect ramp to help you have the freedom to enter and exit your home easily and safely.
Vertical Platform Lifts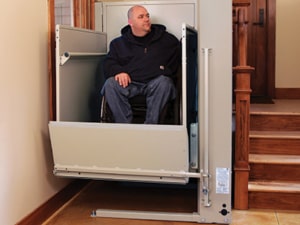 Perhaps you don't have room for a ramp or you want a solution that is even easier to get you in and out of your home. Ask about our line of Vertical Platform Lifts also known as Wheelchair Elevators. Choose from open or enclosed platforms which lift the person in a wheelchair or scooter (and their caregiver, if needed) up and down to give you easy access to your home at the touch of a button. Most require very little, if no, changes to your structure since they are self-contained. These elevators are available for indoor or outdoor use.
Incline Platform Lifts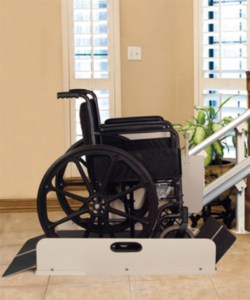 There are also platforms designed to carry a person seated in a wheelchair up and down a rail system installed along your exterior or interior stairs to help you get safely in and out of your home with any kind of elevation change.
Door Openers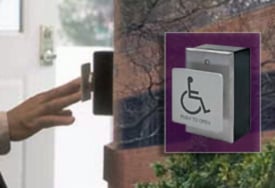 Another great tool for granting easy access is an automatic door opener which can be installed on exterior or interior doors. The control can be mounted on the wheelchair or a nearby wall. The door opens long enough to let the wheelchair pass safely through then closes.
Did you know that 55% of all senior fall injuries happen inside their house?* As people age, they often lose some level of mobility, strength,…
Talking to your aging loved ones about their mobility challenges can be difficult. After all, you've likely spent your whole life seeking advice from your…
How NSM client Brandon Winfield is using technology to help make the world more accessible As creator of the iAccess.Life app, Brandon Winfield is used…