How Ramps Help to Load Wheelchairs and Scooters into a Vehicle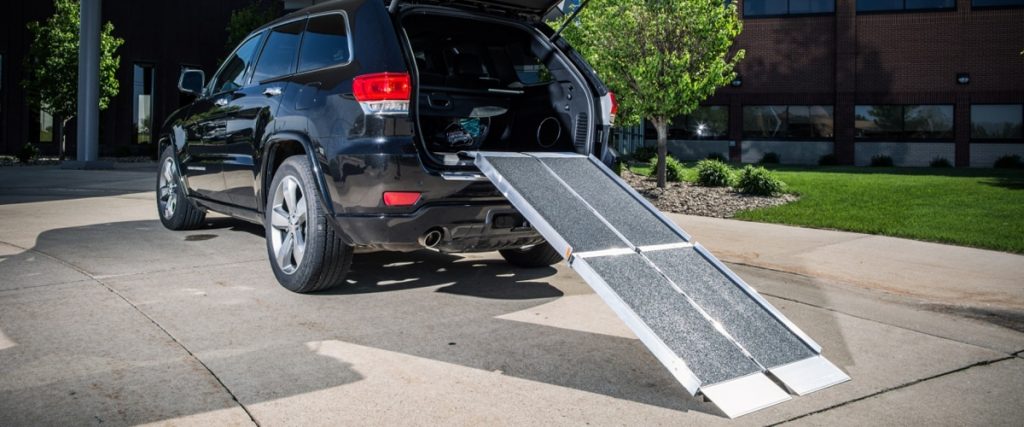 A ramp is an inclined plane that helps wheelchair and scooter users to safely and easily enter into and exit from a building or vehicle. Portable ramps are usually used in vehicles such as trucks, vans and SUVs. They are durable and light-weight and are easy to carry, use and store. They can be placed temporarily at the rear door or side door of a vehicle and removed after use. It is advisable to purchase a ramp with Top Lip Extension (TLE) as it clears the bumpers of SUVs or vans. Some commonly used ramps for vehicles are suitcase ramps, multifold ramps and wheelchair ramps.
Suitcase Ramps – They are portable and lightweight. Their single-fold design helps wheelchairs and scooters to access vehicles without much difficulty. They can be separated into two pieces each with their own carrying handle which makes them easier and lighter to carry and store. Suitcase ramps manufactured by leading manufacturers such as EZ-Access can be purchased from National Seating & Mobility.
Multifold Ramps – The significance of these ramps is that they can accommodate wheelchairs and scooters with various wheel configurations. They allow rear door access on utility trailers, vans and SUVs. They can be easily folded like a suitcase which makes them easier to be carried around, used and stored. Their platform has excellent stability. In order to ensure safety, a safety DVD and steel security pins are included and the safety guide points out whether the ramp is on a safe slope. Ramp models in this category include CR series and trifold ramp advantage series from EZ-Access.
Wheelchair Ramps for Vans, SUVs and Trucks – This foldable, lightweight and easy-to-handle device can be installed on the side door or rear door of a vehicle. It has a loading capacity of 400lbs and can easily accommodate wheelchairs and scooters with various wheel configurations.
Purchase from a Reliable Dealer
If you are planning to purchase ramps for your vehicle, then make sure that you approach National Seating & Mobility. They always have in stock portable ramps from trustworthy manufacturers and will also assist you in choosing the best product for your needs. With a team of licensed and accredited technicians, they provide professional installation and maintenance support. They also offer modular wheelchair ramps for rent for any temporary requirements you may have.
Did you know that 55% of all senior fall injuries happen inside their house?* As people age, they often lose some level of mobility, strength,…
Talking to your aging loved ones about their mobility challenges can be difficult. After all, you've likely spent your whole life seeking advice from your…
How NSM client Brandon Winfield is using technology to help make the world more accessible As creator of the iAccess.Life app, Brandon Winfield is used…