Exploring Types Of Wheelchair Ramps (Part 1)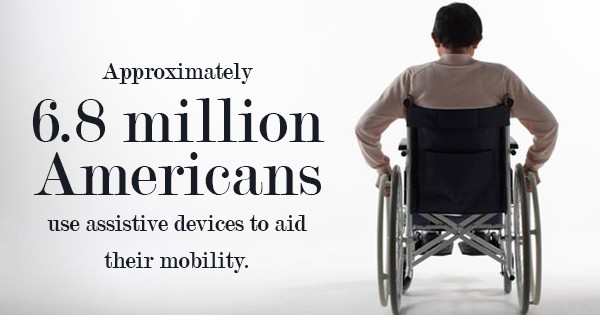 Approximately 6.8 million Americans use assistive devices to aid their mobility. Some of the most common devices are wheelchairs and wheelchair ramps. However, there are a number of different wheelchair ramps with differing designs, functions, and features, and understanding the qualities of each type is the key to making an informed decision about your mobility needs. Here's part one of our guide that will explore some of the many different types of wheelchair ramps.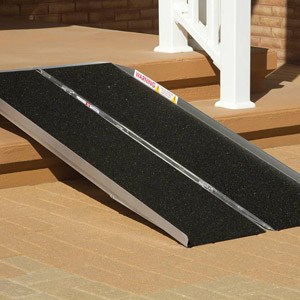 Suitcase Ramps
Suitcase ramps are, much like their name implies, known for being portable. They're lightweight and very compact — not to mention, they typically have all the durability of traditional wheelchair ramps. Suitcase ramps can easily fold up like a suitcase to simplify the storage and transportation processes while helping to provide full mobility. Plus, suitcase ramps are designed in a number of different sizes and can typically hold up to 800 pounds. Ideal for small stairways or larger sets of steps, these ramps are certainly among the most versatile wheelchair ramp styles.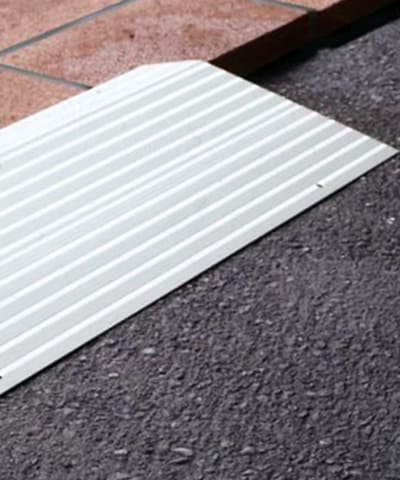 Threshold Ramps
Threshold ramps are a small and compact type of ramp that certainly pack a punch. Since they're not very high off of the ground, they may not seem to do much, but in reality, they make it exponentially easier for those with limited mobility to travel between indoor and outdoor areas using a wheelchair. They're usually made of aluminum and come in various sizes. These ramps allow users to roll over any bumps easily and can fit against various door frames, sliding doors, and other raised landings.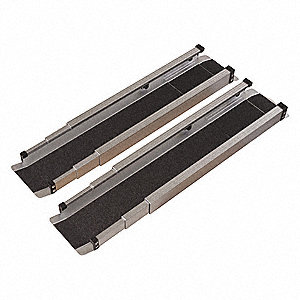 Telescoping Track Ramps
Finally, telescoping track ramps are constructed of high-grade aluminum with a non-skid coating. These mobility ramps are designed to assist those with limited mobility with entering and exiting various vehicles. Although relatively easy to set up and use, these medical ramps can sometimes be a bit difficult to use, specifically when aligning the ramp's tracks with the wheelchair's wheels.
According to HomeAdvisor's 2016 Aging in Place Report, home service professionals say the top aging-in-place projects they've been hired to do include installing grab bars (71%) and adding entryway wheelchair ramps (54%). Understanding the many types of wheelchair ramps for stairs, vehicles, and entryways can help you make the best choices for your mobility needs. Keep an eye out for the next post, where we'll discuss some other common types of wheelchair ramps.
Did you know that 55% of all senior fall injuries happen inside their house?* As people age, they often lose some level of mobility, strength,…
Talking to your aging loved ones about their mobility challenges can be difficult. After all, you've likely spent your whole life seeking advice from your…
How NSM client Brandon Winfield is using technology to help make the world more accessible As creator of the iAccess.Life app, Brandon Winfield is used…