Custom Ramps for the Disabled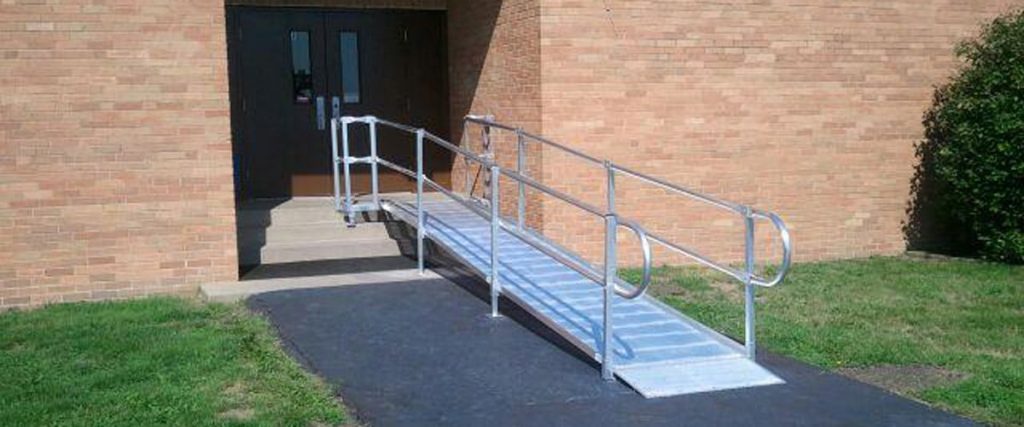 Older adults and people with mobility issues who use a wheelchair or mobility scooter would benefit greatly by having a ramp in their home. The system should be designed to meet the specific requirements of the user and to comply with local building requirements. National Seating & Mobility can provide you with one that meets your needs and is safe and sturdy for use in all types of weather.
The Americans with Disabilities Act (ADA) of 1990 requires that every building or structure is accessible to those who use wheelchairs. This can be achieved with a wheelchair ramp. Custom ramps are personalized ramps built to meet your specific needs. While new buildings are set up to meet ADA requirements, modifications may have to be made to existing buildings to make them comply with this federal regulation. Besides wheelchair users, ramps allow people with canes and walkers to gain access over steps or raised entrances.
Installing Custom Ramps
When installing a ramp you must consider various factors:
The user's needs
The type of assistive device that the person uses
Whether the person's abilities will change
Local zoning considerations and building rules
The length of the ramp
Rise and width
The amount of incline that the wheelchair can tolerate
The entry point to the home, including the space available for ramp set up
Width of the doorway
Safety features such as slip resistance floor, handrails and curbs
Material: aluminum, steel and wood
Some key ADA guidelines on ramps:
The least possible slope should be used for any ramp. The maximum slope of a ramp in new construction should be 1:12
The maximum rise for any ramp run shall be 30 inches
The minimum clear width of a ramp shall be 36 inches
Ramps should have level landings at the bottom and top of each run
A ramp run that has a rise greater than 6 inches or a horizontal projection greater than 72 inches, should have handrails on both sides
Types of Modular Ramps
Aluminum: These durable ramps come with an anti-slip aluminum tread surface on the entire system and are free from issues such as rusting, rotting, and splinters. They have interchangeable BTP and end loops and highest coefficient of friction for maximum traction. These systems can be designed with matching aluminum hand rails.
Steel: Steel ramps are an economical solution. They are coated with sturdy powder-coated finish which improves durability. Features include: slip resistance, galvanized silver handrails and code-compliant mesh design. Quality products come with a three-year warranty.
Wood: Wooden ramps enhance outdoor decks and porticos. They are pressure treated to avoid rotting. They can be installed in hours and can be painted in colors to suit customer needs.
Get Professional Help
Ramp rentals are an optimal option for short-term situations such as a temporary rehabilitation programs, recovery after surgery, and guests with disabilities. On the other hand, if you want to construct a wheelchair ramp, get in touch with National Seating & Mobility. They will work with you to help you choose the right model and set it up to meet your needs and to comply with regulations.
Did you know that 55% of all senior fall injuries happen inside their house?* As people age, they often lose some level of mobility, strength,…
Talking to your aging loved ones about their mobility challenges can be difficult. After all, you've likely spent your whole life seeking advice from your…
How NSM client Brandon Winfield is using technology to help make the world more accessible As creator of the iAccess.Life app, Brandon Winfield is used…