Common Types of Wheelchair Ramps for Vehicles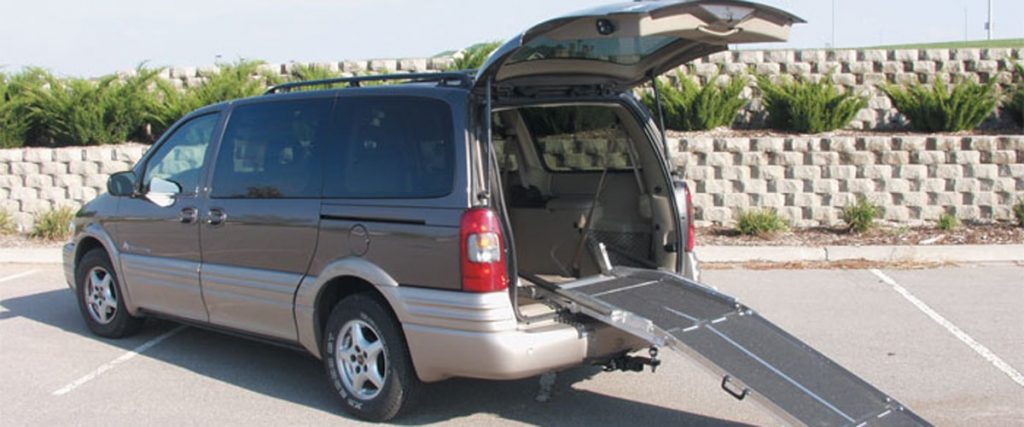 National Seating & Mobility offers an extensive range of wheelchair ramps designed for various applications in residential and commercial settings. When it comes to vehicle access, customers can choose from a wide variety of portable wheelchair ramps. This equipment allows you to load scooter and electric wheelchairs into vehicles with ease. These ramps are lightweight and portable, yet extremely durable. They can be separated into parts, which makes them even easier to use, carry, and store.
Ramps come in various sizes, styles and shapes; they may be portable, semi-permanent, or permanent. A portable wheelchair ramp helps wheelchair or scooter users to comfortably get in and out of vans, SUVs or trucks, overcome the difficulty of climbing and descending steps, and allows easier transition over a threshold.
Here are the main types of ramps available for vehicle access:
Suitcase Ramps: These lightweight and portable suitcase ramps offers a simple and convenient solution for wheelchairs and scooters to immediately access steps, vehicles, and raised landings. They can be used in a variety of applications such as stairs, cars, trucks, and other low to moderate rises.
Multifold Ramps: These ramps can accommodate wheelchairs and scooters with various wheel configurations. They allow rear door access on utility trailers, SUVs, and vans. They have a unique folding design, which allows them to be folded like a suitcase, so that they are easy to carry and store. They come with a full platform for excellent stability.
Ramps for Vans, SUVs and Trucks: These ramps are designed to load wheelchairs or scooters into and out of vehicles such as vans, trucks and SUVs. The manually operated mobility unit can be loaded through the rear door or side door. Rear door ramps fold sideways into the vehicle and can be stored conveniently to allow access through the door when not in use. Wheelchair users can enter via the backside and can sit safely in the back or middle of the vehicle. It requires minimal modification to the vehicle's floor. Side entry vehicles allow more headspace for fitting wheelchairs into the vehicle due to its lowered-floor conversion. It typically has removable front seats that allow the wheelchair user to ride in the front passenger spot or actually drive the van.
In the United States, about 98% of public transit buses are equipped with wheelchair accessible ramps. One important consideration is to set up ramps in accordance with Americans with Disabilities Act (ADA) guidelines to ensure safety and ease of use. It is very important to consider the width before starting the setup because there are larger wheelchairs that are developed particularly for the clients' comfort.
National Seating & Mobility offers different types of modular wheelchair ramps such as suitcase ramps, aluminum and rubber threshold ramps, multifold ramps, solid wheelchair ramps and wheelchair ramps for vans, SUVs and trucks from top manufacturers such as EZ-Access and Prairie View Industries.
If you are planning to buy a wheelchair ramp, National Seating & Mobility will help you choose the right ramp system for your vehicle and also provide safe shipping, assembling, and installation support.
Did you know that 55% of all senior fall injuries happen inside their house?* As people age, they often lose some level of mobility, strength,…
Talking to your aging loved ones about their mobility challenges can be difficult. After all, you've likely spent your whole life seeking advice from your…
How NSM client Brandon Winfield is using technology to help make the world more accessible As creator of the iAccess.Life app, Brandon Winfield is used…