Bruno Straight Stair Lifts to Improve Home Accessibility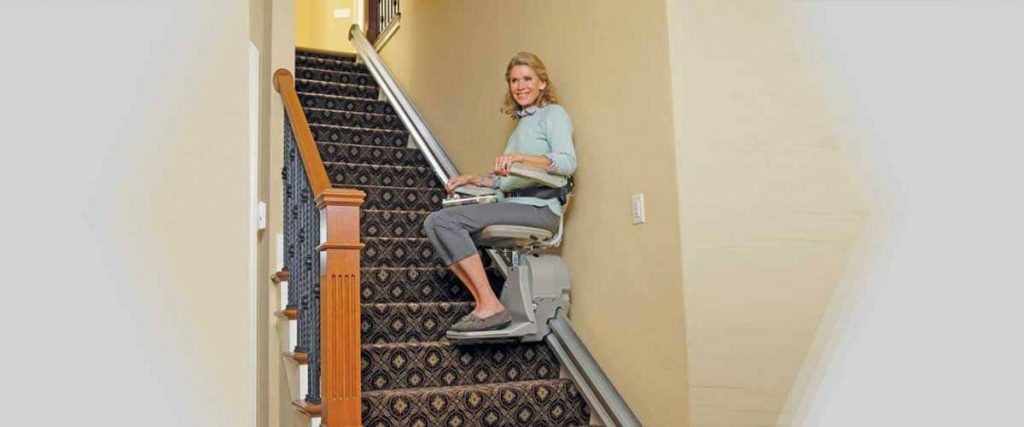 Stairs make it difficult for people with mobility issues to access all areas of their home independently. Designed to overcome this problem, stair lifts help users navigate stairs easily and safely. National Seating & Mobility offers a variety stair chair lift models, including those that can be customized to meet user requirements. If your home has a straight line of stairs, with no curves or corners, then installing a Bruno straight stair lift would be an ideal option. Simplicity in design makes these devices easier and less costly to install than other stair lifts. They offer a smooth and quiet ride, easy operation, and maintenance-free reliability.
Configured with High-end Safety features
Integrated with premium quality features, Bruno straight stair lifts can easily blend with any home environment. High-end safety features include –
Wireless call/send controls
Locking swivel seat
Footrest and carriage safety sensor
Retractable seat belt
Flip-up arms
Obstruction sensors
Generous seat size with multiple seat heights
Overspeed governor
Bruno Straight Stair Lift Models
Bruno straight stair chair lifts come in two models –
Bruno Elite (SRE 2010) – Equipped with two 12V batteries powered by a small, unobtrusive battery charger, the Bruno Elite straight stair lift provides uninterrupted performance, even during power outages. The arms, seat and footrest flip up, creating plenty of space to walk up the stairs. It comes with a rated weight capacity of 400 lb (181 kg). Other standard features include – full length charge strip, adjustable seat height, self-locking worm gear, rack-and-pinion drive system, electromagnetic braking system and over speed brake system.
Bruno Elan (SRE 3000) – Featuring a total weight capacity of 300 lb (136 kg), the Bruno Elan straight stair lift comes with a rack and pinion drive system that delivers a smooth and quiet ride. Safety sensors on the foot plate and carriage immediately stop the unit when an obstruction is encountered. The offset swivel seat mechanism provides a safe, comfortable exit at the top of the rail. This straight stair chair lift features flip-up arms for easy wheelchair transfers. In addition, adjustable seat height allows for easier entry/exit at the top and bottom of the stairway.
Locate a Reliable Dealer
National Seating & Mobility will guide you in selecting the right option for your needs and also install the device to meet your requirements. Customers can also expect efficient post-purchase support related to testing and maintenance.
Did you know that 55% of all senior fall injuries happen inside their house?* As people age, they often lose some level of mobility, strength,…
Talking to your aging loved ones about their mobility challenges can be difficult. After all, you've likely spent your whole life seeking advice from your…
How NSM client Brandon Winfield is using technology to help make the world more accessible As creator of the iAccess.Life app, Brandon Winfield is used…