Aluminum Wheelchair Ramps – Absolutely Worth Buying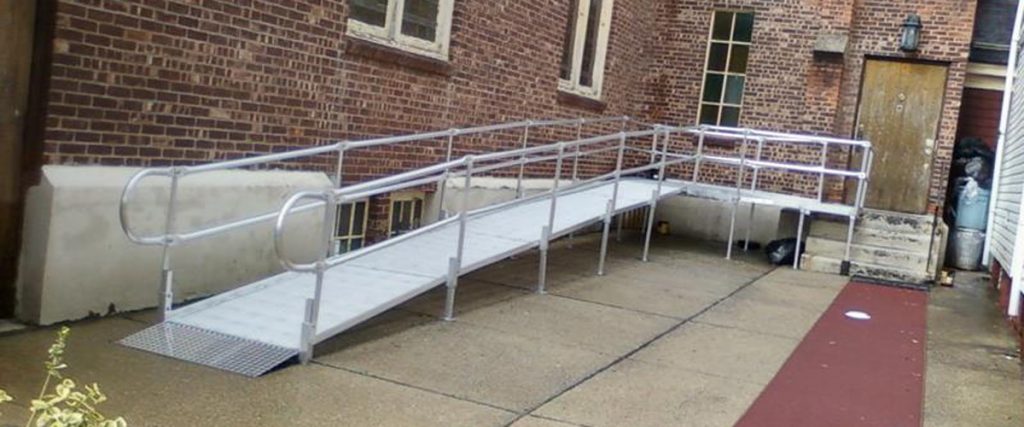 If you are planning to buy 100% maintenance free and environment-friendly wheelchair ramps for your commercial or residential purposes, consider purchasing an aluminum wheelchair ramp. It is absolutely worth buying because it is strong, durable and light-weight and can be easily installed within hours. It fits perfectly even in the tightest of locations. Usually, aluminum series ramps come with a lifetime warranty. They are well-fabricated. Their stylish, clean and modern appearance enables them to easily integrate with most environments. They have an excellent loading capacity. The two sides of this device have a 2″ safety curb that prevents the wheelchair from rolling off. The aluminum surface is skid-resistant with open mesh design to let rain and snow through. Open-mesh ramps allow natural drainage but prevent small objects from passing through.
Aluminum ramps do not rust or rot, and are very durable. They have the highest coefficient of friction for maximum traction. Aluminum wheelchair ramps provided by National Ramps are strong, affordable and safe. Recently, National Ramps reported that their aluminum ramp remained unaffected in a flooding when many homes, businesses and neighborhoods were severely damaged.
Choose a Licensed Dealer
You can purchase ADA-compliant aluminum wheelchair ramps from National Seating & Mobility. They can make available premium quality aluminum, steel, wooden and rubber wheelchair ramps from top manufacturers such as National ramps, Ez-Access and Prairie View Industries. They also supply portable ramps — suitcase ramps, multifold ramps, aluminum and threshold ramps as well as ramps for vans, SUVs and trucks.
You can purchase custom design aluminum, wood and steel wheelchair ramps according to your needs and circumstances. National Seating & Mobility will ensure the service of experienced and certified technicians for professional installation support. Usually, one of their technicians will visit you at your home to personally measure for your accessibility product and evaluate your specific needs. They can install your wheelchair ramp within 48 hours from the time of their visit. Once the installation is completed, you will be informed so that a final walkthrough can take place to ensure your satisfaction with the wheelchair ramps. If you are on a tight budget and don't want to make an outright purchase, consider renting a modular handicap wheelchair ramp, especially for temporary requirements.
Did you know that 55% of all senior fall injuries happen inside their house?* As people age, they often lose some level of mobility, strength,…
Talking to your aging loved ones about their mobility challenges can be difficult. After all, you've likely spent your whole life seeking advice from your…
How NSM client Brandon Winfield is using technology to help make the world more accessible As creator of the iAccess.Life app, Brandon Winfield is used…