Wheelchair Ramps – Maintain Freedom and Comfort without Sacrificing Safety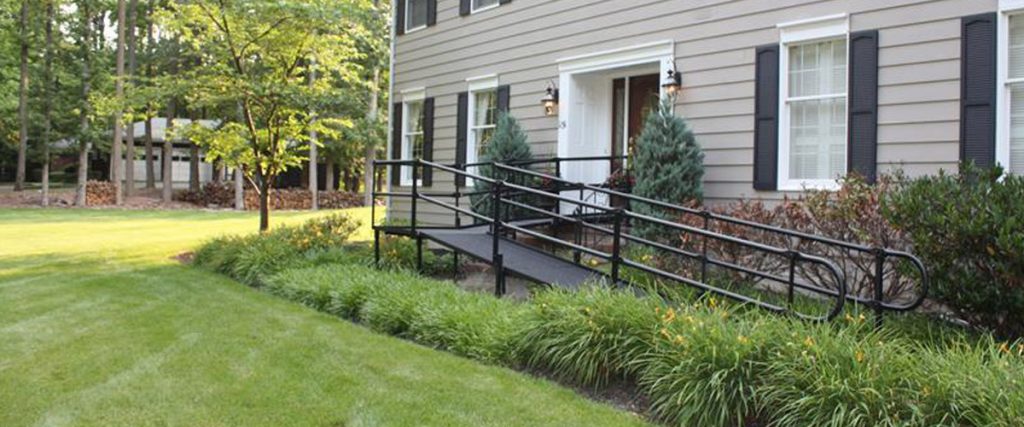 It's a great idea to make your home wheelchair accessible, as it will make life easier for mobility challenged persons. According to the Americans with Disabilities Act (ADA), a building must be accessible for wheelchair users and a wheelchair ramp can make this possible. Ramps help overcome the everyday barriers posed by single steps and door thresholds and allow wheelchair users to access buildings independently. National Seating & Mobility offers both permanent and portable wheelchair ramps and can help you select the most suitable product for your needs.
There are three types of ramps — Permanent, Semi-permanent and Portable
Permanent: Made of wood, concrete or steel, these units are bolted or cemented in place. As they are long-term solutions, they must be set up following strict guidelines for safety and durability. They are ideal for halls and new buildings.
Semi-permanent: These are simply placed on top of the ground. These short-term solutions are available as DIY kits along with an installation guide. They are made of aluminum.
Portable: They are great option for wheelchair users to access door thresholds, raised landings, vehicles and steps. They are light-weight, can be folded easily and carried along. Suitcase ramps can be split into two pieces, making them easier and lighter to carry and store.
National Seating & Mobility provides threshold ramps that provide sturdy and secure access for wheelchairs, walkers or scooters.
Factors to consider while installing a ramp are:
Area and length
Safety features
Material – aluminum, steel or wood
Modular aluminum ramps are pre-configured with handrails that are ready to install. They can be set up with and without platforms. All modular ramp kits come with all necessary accessories, so that you can build a ramp 'out of the box'. These units are also available as rentals for needs such as short-term rehabilitation, recovery after surgery, guests with disabilities, or a special event.
Did you know that 55% of all senior fall injuries happen inside their house?* As people age, they often lose some level of mobility, strength,…
Talking to your aging loved ones about their mobility challenges can be difficult. After all, you've likely spent your whole life seeking advice from your…
How NSM client Brandon Winfield is using technology to help make the world more accessible As creator of the iAccess.Life app, Brandon Winfield is used…