Wheelchair Lifts for a Safe and Comfortable Environment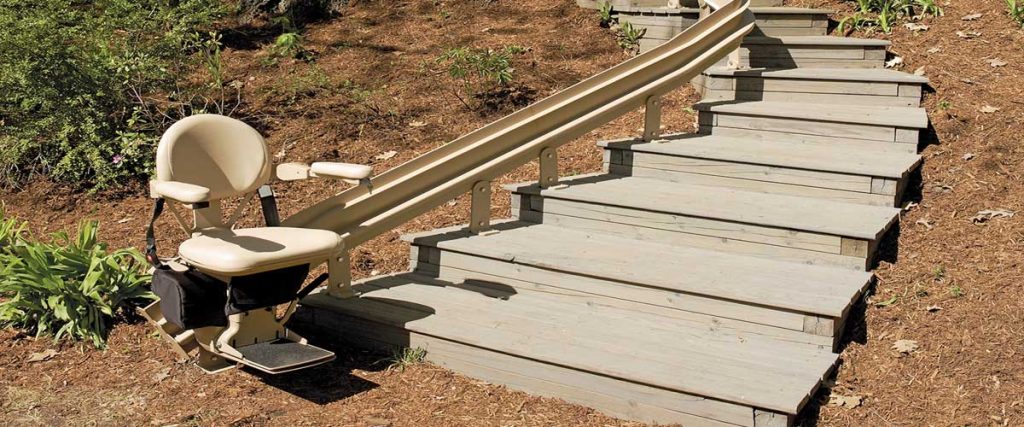 Older adults and people with physical disabilities usually find staircases a major challenge that keeps them from accessing a building with a raised deck or porch. Wheelchair lifts can overcome this problem by helping them move up and down the various levels without leaving their assistive device. National Seating & Mobility offers wheelchair lifts from top brands, helping customers maintain their independence and improve their quality of life.
A wheelchair lift is a fully powered device designed to raise a wheelchair and its occupant to overcome a flight of steps or similar vertical barrier. With this device installed, a wheelchair user would not have to worry about the barriers posed by steps or raised levels. It can be a priceless investment because it improves access to your house or office and helps you move about without depending on others. These lifts are also used in public and private vehicles in order to meet people's accessibility needs as laid out by disability acts.
Wheelchair lifts are purchased for homes, offices and commercial buildings. You can choose residential and commercial wheelchair lifts from leading brands. These accessibility devices make entry to and exit from a building convenient for a person with limited mobility and can make commercial buildings ADA compliant.
Residential wheelchair lifts are also known as vertical platform lifts (VPL) and can be installed to fit the architectural design of your house. Bruno is a reliable manufacturer of accessibility equipment. You can choose from three models of residential wheelchair lifts:
Residential Porch Lifts
Residential Tall Lifts
Residential Garage Application
The Residential VPL provides a reliable and affordable solution for individuals and caregivers who need assisted access to a porch or deck. The Bruno VPL-3100 and VPL-3200B also offer reliable performance. They are strong and durable accessibility devices that can be used either indoors and outdoors. They are easy-to-install, maintenance free, and ensure a quiet and smooth ride.
Commercial wheelchair lifts help wheelchair users to access the different floors of commercial buildings easily and safely. These devices allow efficient wheelchair user access in public buildings such as churches, offices, hospitals, malls, schools, libraries and other public settings. Bruno commercial lifts come in three models:
Unenclosed Commercial VPL
Bruno 3-Gate Commercial VPL
Bruno Enclosed Commercial VPL
These accessibility devices are built to accommodate wheelchairs of varying sizes, and can be used both indoors and outdoors. These VPLs are driven by a quiet ACME screw-driven DC motor with continuous charge battery operation for access even during power outages. Other standard features include: platform safety panel, automatic folding ramp, paddle landing control, and weather protected controls and switches.
To ensure a reliable product, choose an established dealer that offers quality wheelchair lifts from a leading manufacturer like Bruno. National Seating & Mobility ensures efficient installation and timely maintenance solutions.
Did you know that 55% of all senior fall injuries happen inside their house?* As people age, they often lose some level of mobility, strength,…
Talking to your aging loved ones about their mobility challenges can be difficult. After all, you've likely spent your whole life seeking advice from your…
How NSM client Brandon Winfield is using technology to help make the world more accessible As creator of the iAccess.Life app, Brandon Winfield is used…