Things to Look for in a Portable Wheelchair Ramp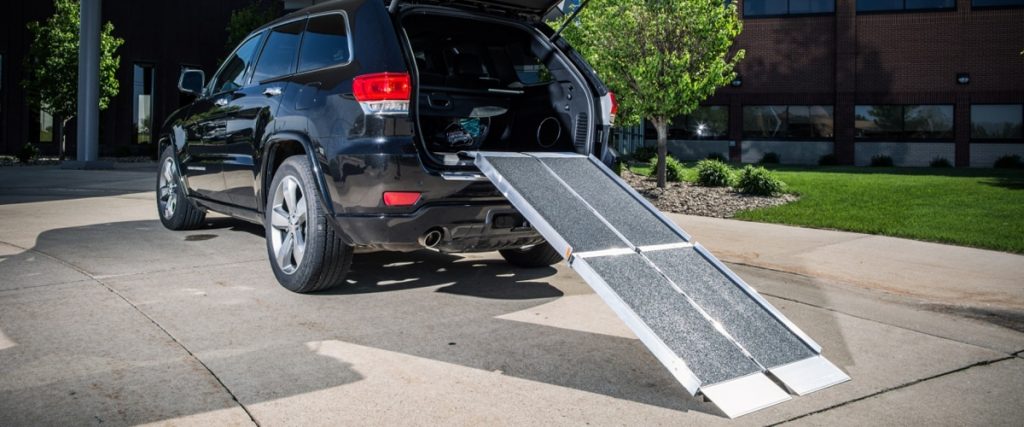 Portable ramps are simple and convenient solutions for wheelchairs and scooters to access steps, vehicles, and raised landings. Portable wheelchair ramps have a variety of uses. These can be used by the wheelchair users and people pushing strollers, carts, or other wheeled objects; and by warehouse workers to move supplies. A portable wheelchair ramp can be placed on the threshold of a room to improve access in the wheelchair or scooter to the doorways, sliding glass doors, or shower. A wheelchair or scooter can be loaded into a transport vehicle through the side door or rear door using a wheelchair ramp. When purchasing a portable wheelchair ramp, you should make sure to choose the right one, as it can have a significant impact on the health and safety of the user.
Here are some factors to consider when purchasing a portable wheelchair ramp.
Slip-resistant Material The wheelchair ramp will get wet in the rain or snow and can become extremely slippery. If it is made of a slip-resistant material, it will provide enough grip to wheelchair wheels, preventing the wheelchair from slipping or sliding off and also ensure that anyone walking or pushing a wheelchair on the ramp can maintain safe footing, regardless of the weather.
Height of Threshold The height of threshold is one of the most important factors to consider when purchasing a portable threshold ramp. According to the Americans with Disabilities Act (ADA) standards, any threshold higher than 1⁄2 inch requires a threshold ramp. In fact, different surfaces such as steps leading to the home, doors with raised lids, vehicle entrances, the space between the floor and the shower and steps from the garage into the home all require different height thresholds. If it is too high or too low, then the user won't be able to use the ramp safely.
Space Portable ramps should have enough space for the user to safely get on, off, reverse and turn. The space required for a wheelchair can be calculated by measuring the wheelbase of a wheelchair. To ensure that there is enough space in the place where the portable ramp is used, measure the width of various door openings.
Weight Capacity It is essential that a portable wheelchair ramp has the ability to accommodate adequate weight capacity as it may be used not only by normal weight individuals, but also by bariatric patients. So, if a bariatric patient is using a ramp that does not support heavy weight, it can cause wear and tear to the ramp and lead to serious safety issues for the user.
You can purchase high quality portable wheelchair ramps from National Seating & Mobility. They can make available adjustable threshold ramps as well as wheelchair ramps of aluminum and rubber material with anti-slip tread surface, with the ability to accommodate wheelchairs and scooters with various wheel configurations and wider chairs, and having sufficient carrying capacity. They can also help you choose the right product and provide cost-effective professional installation and excellent after-sales services.
Did you know that 55% of all senior fall injuries happen inside their house?* As people age, they often lose some level of mobility, strength,…
Talking to your aging loved ones about their mobility challenges can be difficult. After all, you've likely spent your whole life seeking advice from your…
How NSM client Brandon Winfield is using technology to help make the world more accessible As creator of the iAccess.Life app, Brandon Winfield is used…