The Most Dangerous Room for the Mobility Challenged- Bathrooms
Bathrooms are usually the smallest room in the house, but they can be the biggest safety risk for those with any type of mobility challenge. Most likely, there's a dangerous combination of wet tile floors, slippery tubs, difficulty getting up from a seated position after toileting and cramped space. Add to that mix, the loss of privacy and independence when help is required for those with mobility limitations. The bathroom may be a necessity but it is not a room to be looked forward to by the person who needs help or the caregiver. The bathroom can be an accident waiting to happen (in more ways than one!)
There are some simple changes that can be made in your bathroom to make it easier to access, safer and even offer more independence to use: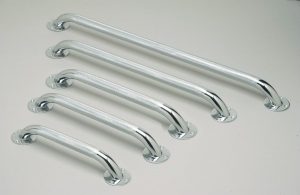 Grab Bars– There is a wide selection of grab bars which can be installed in strategic places near the toilet and tub to aide in getting up and down, as well as having something to hold on to instead of falling.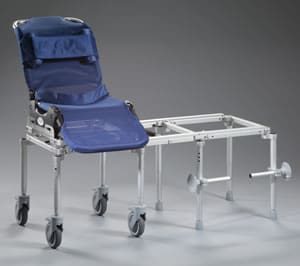 Shower chairs– Multiple models are available to aide in getting safely in the shower or tub—including benches which allow the patient to sit down outside the tub and slide into the tub while seated.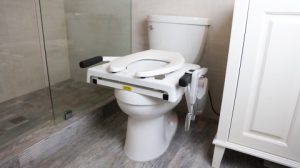 Toilet Accessories– There are portable bedside commodes, raised toilet seats, over commode bars which have stable arm rests to aide in standing up.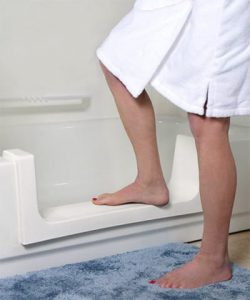 Walk In Tubs– These are great for the safest baths. There is no need to raise legs over the tub. Just walk in, close the door and sit down.
Patient Lifts– When the patient has little to no mobility, a lift can be installed to make transferring to the toilet or bath safer and easier on both patient and caregiver.
Bath Remodels– There are times, the existing bathroom has so many issues for the mobility challenged person, that an Accessibility Professional needs to be involved in making major changes in your bathroom.
Don't forget to place slip resistant mats or stickers in your bathtub, spray air freshener above toilet instead of on the floor causing a fall risk, and remove throw rugs which can trip someone up. Take a good look at your bathroom to see what small or larger changes need to be made. Get the input from an Occupational Therapist or Accessibility Professional for personalized input on making your bathroom less dangerous.
Did you know that 55% of all senior fall injuries happen inside their house?* As people age, they often lose some level of mobility, strength,…
Talking to your aging loved ones about their mobility challenges can be difficult. After all, you've likely spent your whole life seeking advice from your…
How NSM client Brandon Winfield is using technology to help make the world more accessible As creator of the iAccess.Life app, Brandon Winfield is used…