Stair Lift Installed in a Limited Space Impressed the Client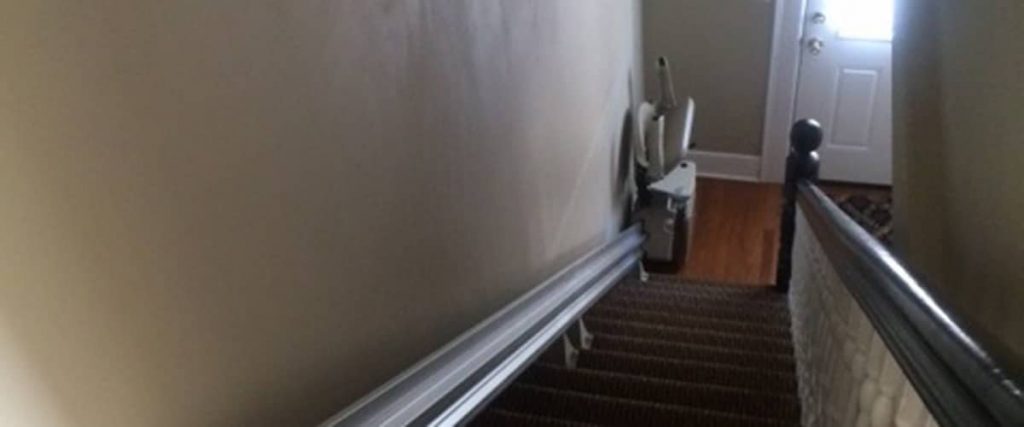 Overview
Space is a major concern when it comes to installing stair lifts. Experienced in selecting and installing the right stair lifts for every budget and space, National Seating & Mobility recently installed a stair lift that is a perfect fit for the long narrow stairs of a Toms River, NJ client.
The Challenge
The space taken up by a stair lift is a major concern for most clients planning to install one in their homes. Narrow stairs can pose a problem and it is important to decide on the right product that requires minimum space and leaves room on the stairway for other people who need to use the stairs. For this NJ client, we had to identify the right straight stair lift track that could fit on her long narrow stairs and also have the required weight capacity.
The Solution
We installed a straight stair lift that ideally fit to the client's stairs. The seat can be folded away when not in use for ease of stair access for others. It also has a reliable seat belt for added security.
The client was so happy with the service and on seeing the finished product she exclaimed, "It fits like a glove."
Did you know that 55% of all senior fall injuries happen inside their house?* As people age, they often lose some level of mobility, strength,…
Talking to your aging loved ones about their mobility challenges can be difficult. After all, you've likely spent your whole life seeking advice from your…
How NSM client Brandon Winfield is using technology to help make the world more accessible As creator of the iAccess.Life app, Brandon Winfield is used…