Show Your Love with Mobility Products This Valentine's Day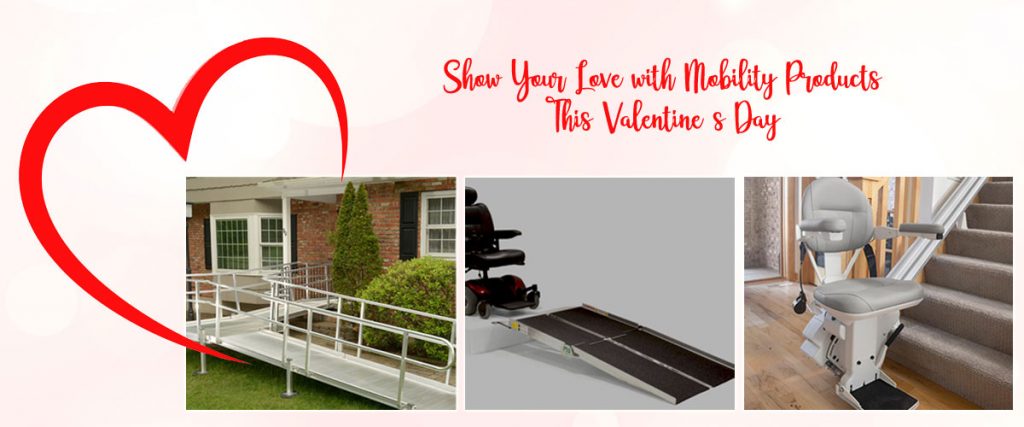 Valentine's Day, no doubt, is an opportunity to show one's love for family, friends and loved ones. You may have planned a date, purchased a gift for your lover, chosen a restaurant, and may be waiting for the precious moment. At National Seating & Mobility, we have a different idea for you to celebrate this year's Valentine's Day. You all know how important mobility products like stairlifts or ramps are for many people, seniors, and those with disabilities. Why not show your love and affection for your near and dear ones with premium mobility products on this day!
Here is a look at some of the mobility products that could help make someone's life much easier, hassle-free, and comfortable:
Ramps
A wide range of mobility ramps are available for residential as well as commercial use. Custom, portable and modular ramps are there that meet diverse requirements. Ramps are also offered for rent for short-term requirements. Wheelchair ramps are made of diverse materials – Aluminum, Steel or Wood.
Stair Lifts
Climbing stairs is one of the most challenging tasks faced by most seniors and people with disabilities. Straight and curved stairlifts for indoor and outdoor use are available to overcome the barriers posed by staircases. Our collection includes diverse models such as Bruno Elite Exterior Curved, Bruno Elan SRE-3050, and Bruno Elite Curved among others. People with mobility issues can use stairlifts to move safely from one floor to another.
Vehicle Lifts
Getting oneself and the mobility equipment they use in and out of a vehicle presents its own challenges. To ease such challenges, vehicle lifts can be used. It helps maintain a more active lifestyle and travel anywhere without worrying about disability. Wheelchair and mobility scooter users find this product really useful.
Take your Valentine's Day to the next level by showing your love with such mobility products that serve as a relief for many! By supplying quality accessibility products from established manufacturers, National Seating & Mobility aims at helping people gain back their freedom.
Did you know that 55% of all senior fall injuries happen inside their house?* As people age, they often lose some level of mobility, strength,…
Talking to your aging loved ones about their mobility challenges can be difficult. After all, you've likely spent your whole life seeking advice from your…
How NSM client Brandon Winfield is using technology to help make the world more accessible As creator of the iAccess.Life app, Brandon Winfield is used…