Should I rent or purchase a stairlift?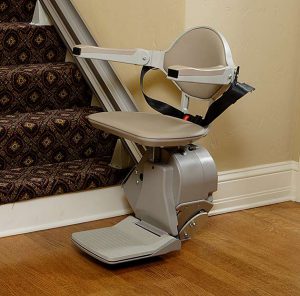 When looking for a stairlift to grant access to upper and lower levels in your home, people often ask if they should purchase or rent a stairlift. The answer depends on your particular situation, duration of need, and of course, the stairs in your home. A stairlift consists of a rail system, carriage unit and chair that transports the user safely up and down existing stairs. It is an affordable way for you or a loved one to be able to access all areas of your home when the stairs cannot be safely navigated.
Almost any type of stairs can be custom fit with a stairlift—straight, curved, spiral, multi-landing, exterior and interior. However not every type of staircase can be rented. If you have one straight single run of 10-14 steps, you may be able to rent a stairlift. However, curved, spiral and staircases with turns or multi-landings need very customized fittings for the rail system. Most of the time, straight staircases are the type which can be rented. Check with your accessibility professional to set up a free consultation to evaluate and measure in your home. They can determine if rental is an option. There are times you can rent to own, rent for the duration of recovery, or for a house guest.
Make sure to use a reputable brand like Harmar, Bruno and Handicare. All three of those manufacturers are highly rated and exceed all safety and ADA standards. They stand behind the modular designed parts which make up the stairlift system. Make sure the stairlift you purchase or rent meets these requirements:
A backup source of power to ensure operation in case of an outage

A seat belt for the chair

A lock to keep children from playing on the stairlift

The weight capacity should meet your individual needs

A swivel seat that locks in place at the top and bottom of the stairs for easy seating.

An overload detector and governor to regulate speed

Ask about a maintenance plan to cover any repairs
Some companies have a minimum rental period of about 3-4 months to cover cost of installation. Ask about a buy-back program if you sell your home or no longer need the stairlift. The value of gaining the independence and safety of going up and down stairs is a big consideration when thinking about buying or renting a stairlift for indoors or outdoors in your home. Sometimes it means the difference in staying in the multi-level home you love and feel comfortable in.
Did you know that 55% of all senior fall injuries happen inside their house?* As people age, they often lose some level of mobility, strength,…
Talking to your aging loved ones about their mobility challenges can be difficult. After all, you've likely spent your whole life seeking advice from your…
How NSM client Brandon Winfield is using technology to help make the world more accessible As creator of the iAccess.Life app, Brandon Winfield is used…