Safety Precautions to Keep in Mind when Using a Stair lift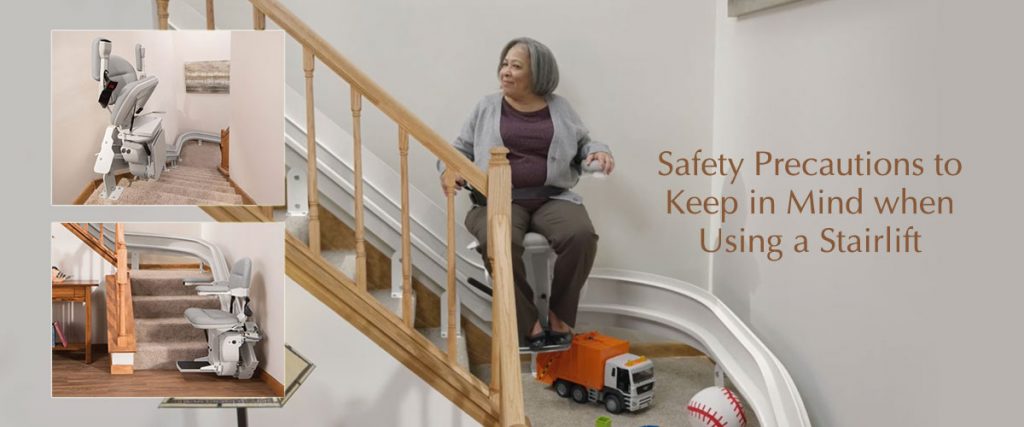 If your loved ones have mobility issues, taking care of them involves serious responsibility. Providing a safe environment for them to move around freely is important. Many older adults have mobility issues that may be the result of poor eyesight, weakness in the legs, loss of balance, injury, arthritis, and other health conditions. In fact, for people with mobility issues, going up and down stairs could pose risks of falls and injury. Installing a stairlift can be a real lifesaver for people who cannot use the stairs without assistance. Stairlifts not only improve mobility but also provide users with a sense of independence, allowing them to move from one floor of the house to another without assistance. Apart from being convenient and fast, these devices can dramatically reduce the chances of falling down the stairs.
Modern stairlifts are very safe and reliable when used correctly. As with any mechanical device, they can cause serious injury if not handled correctly. National Seating & Mobility offers stair chair lifts equipped with several advanced safety features. If you have a stair chair lift at home or if you are planning to install one for your loved ones, it is important to familiarize yourself with the equipment's basic safety features. Discussed below are some important safety precautions you should keep in mind when using a stairlift –
Capacity: one person – Lifts have a weight limit. Stairlifts are designed to carry only one person at a time. Never attempt to carry more than one person, including children. Make sure to never exceed the maximum weight limit specified in the user's manual.
Keep the staircase obstacle-free – Even without a stairlift in place, stairs can become dangerous when toys or clothes are left on them, or when they have torn carpeting or loose boards. These objects can also impact stairlifts and cause them to get stuck.
Ensure visibility around the stairs – Improving the visibility surrounding the stairs is one of the first things to do before your install your lift. The area surrounding the stairs must be well lit. Using a number of small lamps facing directly at the steps would be ideal. Try to use lighting to create a path as well. Be sure to make the floors below and above the staircase as visible as possible.
Have a stable surface – Decorating the floor with carpets does look stylish. However, it is important to arrange the carpet so that it lies flat. A messy carpet may be dangerous or may cause elderly people with mobility issues to fall. Going on or off a stairlift can be dangerous if you are stepping on a carpet or rug. Always wear slippers or similar shoes with a grip for stability.
Keep it clean – Dust or liquids could cause the stairs to become slippery and damage the stairlift. Don't drink (or let any type of liquid) near the stairlift.
Beware of Loose Items – Make sure that loose items are kept clear of the stairlift. Scarves, long skirts, blankets, and long jackets could become trapped under the mechanism, causing personal injury or damaging the stairlift.
Never let children use the stairlift without supervision – Make sure that children do not play with the equipment or use it without adult supervision. Stairlifts come with a child-proof immobilization feature that prevents the child from using the stairlift without proper supervision.
Fold the Seat – Stairlifts are designed with foldable seats to make sure that they don't get in the way of people who are using the stairs. It is important to fold the seat after each use to avoid tripping over.
Safety is paramount when it comes to using a stairlift. When used properly, a stairlift will provide you and your family many years of reliable mobility. It is important that the device you choose has all the necessary safety features. Stop using the stairlift if any of the features don't work, if the device starts behaving strangely, or if any signs of wear and tear become visible. Getting the stairlift regularly checked by a professional will ensure that works well all the time.
Did you know that 55% of all senior fall injuries happen inside their house?* As people age, they often lose some level of mobility, strength,…
Talking to your aging loved ones about their mobility challenges can be difficult. After all, you've likely spent your whole life seeking advice from your…
How NSM client Brandon Winfield is using technology to help make the world more accessible As creator of the iAccess.Life app, Brandon Winfield is used…