Safety Features of the Bruno Elite Curved Stairlift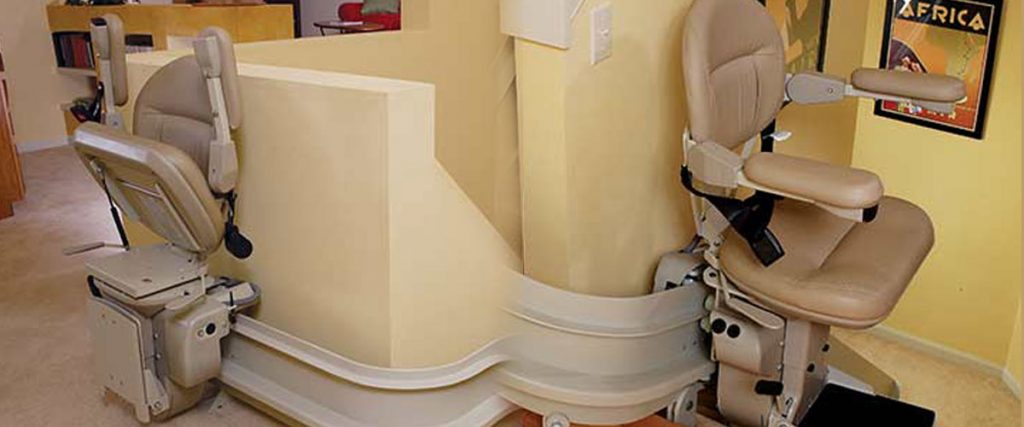 A strong and beautiful curved staircase can make a stunning visual statement in a home. However, mobility issues can turn your staircase into a barrier to accessibility. Curved stair lifts are specifically designed to solve this problem and preserve the beauty of your home while providing optimal accessibility. The Bruno Elite Curved stair lift is a best-in-class device that offers a smooth ride from start to finish. The safety mechanisms of this stair lift help the user navigate curved stairs easily and safely.
Obstruction sensors – Toys or other objects on the stairs will block the path of a stair lift. Like all quality accessibility devices, the Bruno Elite is equipped with obstruction sensors on the footrest and carriage. These sensors automatically detect obstacles in its path and immediately stop the operation of the lift. The lift can continue on its safe journey after the obstacles are removed.
Offset swivel seat – The offset swivel seat makes entry and exit position at the top landing easier and safer than ever.
Folding foot rest – The folding footrest offers comfort and automatically flips up and down when the seat is raised and lowered. It can be folded away when not in use.
Emergency stop button – Emergency stop function/brake system quickly stops the device's operation in an emergency without any sudden jerking movements.
Retractable seat belt – Like all stair chair lifts, the Elite comes equipped with a seat belt that prevents users from slipping and sliding in their seats. While the device ascends and descends at a safe speed, the seat belt ensures a safe ride for those with balance problems.
Flip-up arms – Flip-up arms create plenty of space in the stairs and allow for easy wheelchair transfers.
Speed governor – The goal of the speed governor is to prevent dangerous speeds. It ensures that the carriage does not speed up on its way down the stairs.
Battery back-up power – The battery backup system automatically charges the device when it is not in use and ensures that it works even during power outages. The Bruno Elite curved stair lift is powered by two 12V batteries and is continuously charged by a 2A battery charger that can be easily plugged in to any 110V household outlet.
Adjustable seat height – This feature allows users to pre-adjust the seat height to suit their requirements. This eases entry and exit at the top/bottom of the stairways.
Purchasing your Bruno stairlift from National Seating & Mobility will ensure customized, hassle-free installation as well as efficient annual maintenance for a reasonable charge.
Did you know that 55% of all senior fall injuries happen inside their house?* As people age, they often lose some level of mobility, strength,…
Talking to your aging loved ones about their mobility challenges can be difficult. After all, you've likely spent your whole life seeking advice from your…
How NSM client Brandon Winfield is using technology to help make the world more accessible As creator of the iAccess.Life app, Brandon Winfield is used…