Reasons to Install an Outdoor Stair Lift in Summer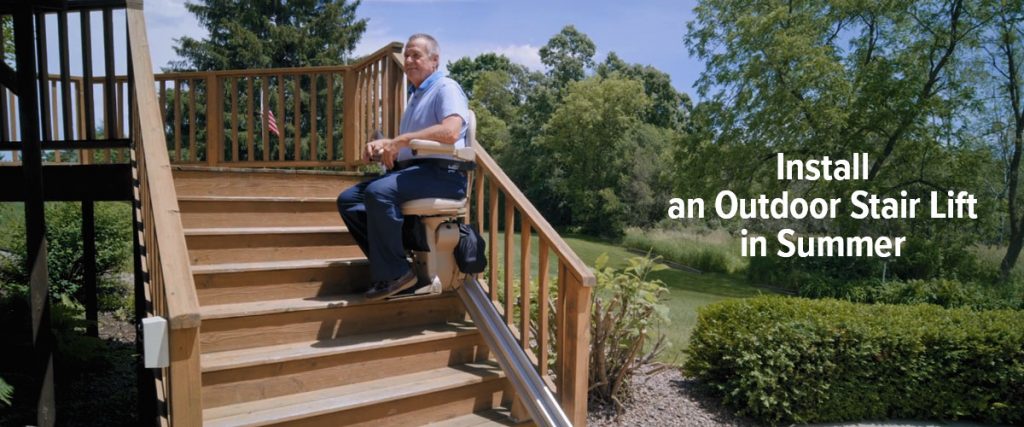 As the weather warms up, everyone looks forward to spending more time outdoors? Enjoying the summer weather or a sunny day is not easy for people with mobility issues and trouble using the stairs. Stairlifts are an ideal option to overcome this challenge. Installing an outdoor stair lift allows users to move up and down outdoor stairs easily. There are stairlifts for both straight and curved stairs. Reliable stairlifts like the Bruno Elite Exterior Curved stairlift comes with additional features such as tight rail installation, offset swivel seat that makes exit and entry safe, flip-up arms, self-locking worm gear; rack-and-pinion drive as well as a generous seat and height adjustments and more that allows accessing outdoor stairs in a safe way. Exterior stairlifts are also specially designed to withstand weather conditions all the year round.
An exterior stair lift can be installed anywhere in your home where there are stairs – in a front entrance way, garden steps, balconies, porches, verandas, garages or basements.
The key advantages of installing an outdoor stairlift in summer are –
Improve accessibility
Quality exterior stairlifts can users enjoy all aspects of their home, garden or property – both indoor and outdoor. They can access the stairs, easily and independently in a seated position.
Avoid falls and injuries
Specially designed for outdoor environments, exterior stairlifts provide a safe and comfortable ride. You can safely get in or move out of your home and even plan summer parties or attend social events or outdoor community events, without any worries your aching knees or falls.
Stay active and independent
An outdoor stairlift can boost your confidence and promote independence, especially if you have mobility issues and live on your own. You don't have to rely on any one to help you move around your home.
Bruno Elite Exterior stairlifts come in two models for curved stairs (CRE-2110E) and straight stairs (SRE 2010E). Both these models come with 400 lb weight capacity (190 Kg). They feature weather-resistant seat materials, a light-weight cover and anodized aluminum rail.
While buying an exterior stair lift, make sure to consider factors such as total load capacity, remote control options, safety features, rack and pinion drive system, electronic sensors to detect objects on its path, and more. Exterior stairlifts help you safely access stairs, improving your quality of life and allowing you to enjoy the beauty of the outdoors during any season.
Did you know that 55% of all senior fall injuries happen inside their house?* As people age, they often lose some level of mobility, strength,…
Talking to your aging loved ones about their mobility challenges can be difficult. After all, you've likely spent your whole life seeking advice from your…
How NSM client Brandon Winfield is using technology to help make the world more accessible As creator of the iAccess.Life app, Brandon Winfield is used…