Navigate Indoor Stairs Easily with a Bruno Elite Straight Stair lift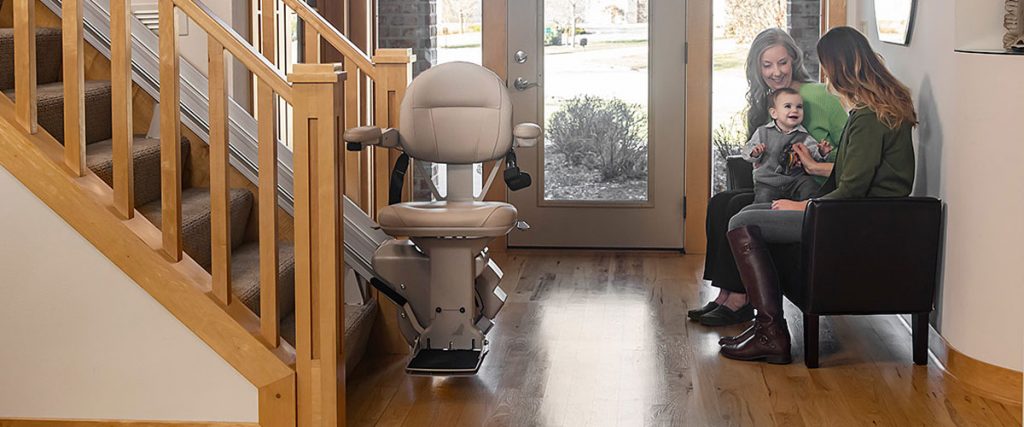 Stairs are one of the most common challenges in homes with elderly residents or those with mobility issues. Installing a stair lift can restore their mobility and make life easier for them. These devices help people navigate a staircase easily and independently and eliminate risks of falling on stairs. Leading manufacturers of accessibility equipment offer top quality stair chair lifts for various staircase configurations. With its advanced features and classic design, the Bruno Elite stair lift sets new standards for residential accessibility.
Featuring a honeycomb rail design for improved stability, the Bruno Elite is an ideal option for straight stairs. With clean, attractive styling with reliable operation, this stairlift blends form and function. The two wireless call/send controls make installation simple and clean with no wires running along the wall. Its hidden, rack-and pinion drive system provides a smooth ride, start and stop. The offset swivel seat makes the entry and exit at the top landing safer and easier than ever.
The Elite straight stairlift comes with a rated weight capacity of 400 lbs (181 kg) and can be easily installed on either side of the stairs. Its vertical straight rail installs to within 6" (152 mm) from the wall, allowing family members and guests with easy access to the stairs. The arms, seat and footrest flip up, creating plenty of space to walk up the stairs.
Equipped with two 12V batteries (powered by a small, unobtrusive battery charger that plugs into any household outlet), this straight stair lift provides uninterrupted performance even during power outages. Other standard features and specifications include –
Standard track length of 15' 9" (4.8 m) – two 7' 10.5" (2.4 m) sections
Soft-start, soft-stop for the user's maximum comfort
Retractable seat belt
Remarkable stability through the improved clamping and rail design
Onboard audio and visual diagnostics (for easy and precise service)
Footrest and carriage safety sensor
Contoured seat for maximum comfort
Direct drive motor/gear box – no belts for reduced maintenance
Adjustable armrest width
Generous seat size _ 17.75" (451 mm) adjustable to 21.75" (552 mm) between the arms
When it comes to buying the Bruno Elite straight stair lift, it's important to choose a reliable accessibility equipment dealer. National Seating & Mobility provides dedicated guidance and support related to installation, inspection and maintenance.
Did you know that 55% of all senior fall injuries happen inside their house?* As people age, they often lose some level of mobility, strength,…
Talking to your aging loved ones about their mobility challenges can be difficult. After all, you've likely spent your whole life seeking advice from your…
How NSM client Brandon Winfield is using technology to help make the world more accessible As creator of the iAccess.Life app, Brandon Winfield is used…