National Seating & Mobility Installs Bruno SRE 2010E Stairlift for a Howell, NJ Client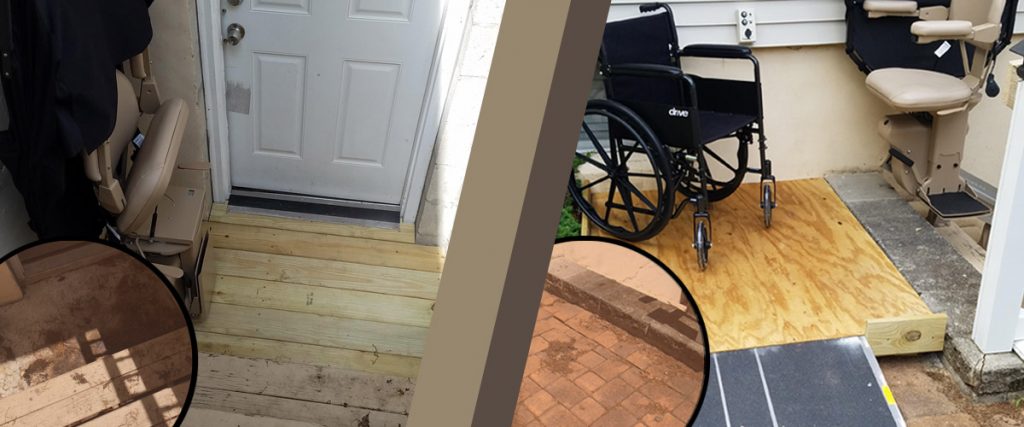 An experienced hand in supplying and installing stair lifts and wheelchair ramps, National Seating & Mobility recently installed a Bruno SRE 2010E stair lift for a Howell, NJ client.
Mrs. L, who lives in a basement apartment in Howell, NJ, has a stair lift inside that gets her to the first floor, but she found it difficult to move outside as there were several steps from the front door down.  Her requirement was outside access from her apartment directly. She could transfer from wheelchair to stair lift on her own.
To meet her need, Mrs. L consulted National Seating & Mobility even though another supplier had installed her inside stair lift. National Seating & Mobility's history, excellent reviews and photos of their work made her feel more confident in choosing them. National Seating & Mobility sent a skilled team of 3 technicians to visit the site and evaluate the client's specific requirements. They took just half a day to install Bruno SRE 2010E or Elite exterior stair lift. They built custom decks and ramps to ensure a smooth transition from the basement door to stair lift and from upper landing to back yard patio.
Mrs. L was really impressed with the services provided and she gave National Seating & Mobility a rating of 5 stars. She also called their representative to personally let them know how much she appreciated the skills of the crew and their professional manner. The National Seating & Mobility team could prove that a little ingenuity and extra attention to detail and time on the job is all that is needed to assist anyone who lacks mobility. Experience with this specific client has motivated the team, encouraging them to provide better service.
Did you know that 55% of all senior fall injuries happen inside their house?* As people age, they often lose some level of mobility, strength,…
Talking to your aging loved ones about their mobility challenges can be difficult. After all, you've likely spent your whole life seeking advice from your…
How NSM client Brandon Winfield is using technology to help make the world more accessible As creator of the iAccess.Life app, Brandon Winfield is used…