Modular Ramps to Enhance Accessibility in Homes and Public Spaces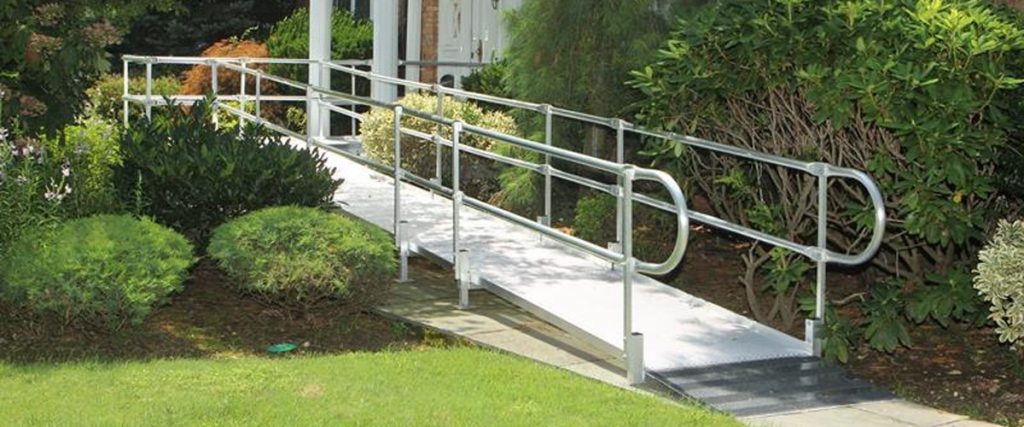 Making ramps a regular feature of the environment offers benefits for everyone. Modular ramps can be customized for home and public places, making them more accessible for people with and without disabilities, including people with baby strollers and bicycle riders.
If you have a large landscaped area from your home to car porch which you don't want to damage or steep steps or a single step at entrance, a modular ramp is the ideal option to these obstructions.
National Seating & Mobility offers ADA compliant modular wheelchair ramps. Customers can choose from wide range of mobility ramps for both residential and commercial purposes. They also offer DIY modular ramp kits, which come fully accessorized with all of the parts and pieces in the kit. National Seating & Mobility will help you select and install the right ramp for your application.
Modular ramps consist of adjustable components, which means you can design the modules and components to build a custom ramp around your landscaping, inclines, or other obstacles. The four types available are:
Solid surface aluminum: This model comes with anti-slip grooves for climates like little or no snow. It is 100% maintenance free and come with a lifetime warranty against rust. Installation can be completed easily and quickly. They are suitable for any site layout.
Open mesh aluminum: This model is 100% recyclable and 100% maintenance free. It allows rain and melting snow to pass through, drying quickly and providing excellent traction.
Open mesh steel: This ADA-compliant DIY modular ramp model is designed to last longer than the warranty period. The mesh design allows natural drainage by preventing small objects from passing through. To make it more hard-wearing, all components are coated with a durable powder-coated finish.
Pressure treated modular wood: This model is designed to last longer and protect against termite damage, rotting and fungal decay with the help of pressure-treated wood. It is an ideal option for existing wood decks and porches.
Ramps should be accessible and convenient for all users. The design should minimize hazards and adverse consequences of accidental or unintended actions. People with limited mobility should test the ramps to ensure that the inclines are not too steep and that handrails are provided. From a business perspective, modular ramps for commercial settings such as stores and pharmacies can open up a whole new market by catering to the needs of different types of customers.
National Seating & Mobility offers a wide range of modular ramps at the best prices that cover necessary accessories and hardware as well as shipping and handling.
Did you know that 55% of all senior fall injuries happen inside their house?* As people age, they often lose some level of mobility, strength,…
Talking to your aging loved ones about their mobility challenges can be difficult. After all, you've likely spent your whole life seeking advice from your…
How NSM client Brandon Winfield is using technology to help make the world more accessible As creator of the iAccess.Life app, Brandon Winfield is used…