Modular Ramps – An Effective Option for Improved Access to Homes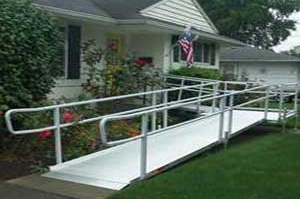 Accessing steps outside homes can prove to be a challenging task for wheelchair and mobility scooter users. Providing access over steps and raised landings and to vehicles with ease, modular ramps are a safe and convenient option for this group. One of the main benefits of these ramps is that they can be installed and also removed quickly.
National Seating & Mobility offers various models of wheelchair and scooter ramps and helps customers set up these systems to suit their specific requirements and environments. Featuring an efficient design, modular ramps use less hardware and no pre-assembly. They are featured to help users access raised landings and vehicles easily and safely and can be configured to almost any site layout. Installation is easy and simple and can be completed in less than 30 minutes.
Ramps are made of high-strength lightweight aluminum material which can withstand the rigors of outdoor use. The system features a slip-resistant surface that maintains traction in any weather condition. Ramps, platforms, and handrails come pre-assembled which saves hours of tedious hand work. Standard features of quality models include:
Sides are finished and flush, with no hazardous nuts or bolts protruding onto the useable ramp area
Low maintenance
Integrated independently adjustable supports
Easy installation – Install a 24′ system with handrails in less than 30 minutes
Comply with ADA guidelines
850lb weight capacity
Easily reconfigured (if necessary and parts can be added at a later time if more length be required)
36″ width
"Exclusive patent pending" connecting system eliminates drilling and riveting handrails
National Seating & Mobility offers a wide range of models to choose from – straight ramp no platform and with platform, turn platform with ramp, turn ramps to existing landing and to second platform, and with turn back layout. You can also get modular ramp kits that are fully accessorized with all of the parts and pieces included, allowing you to set up the ramp 'out of the box'. National Seating & Mobility offers the best prices that cover necessary accessories and hardware as well as shipping and handling.
Did you know that 55% of all senior fall injuries happen inside their house?* As people age, they often lose some level of mobility, strength,…
Talking to your aging loved ones about their mobility challenges can be difficult. After all, you've likely spent your whole life seeking advice from your…
How NSM client Brandon Winfield is using technology to help make the world more accessible As creator of the iAccess.Life app, Brandon Winfield is used…