DIY Modular Ramps Allow You to Set Up a Ramp for Your Requirements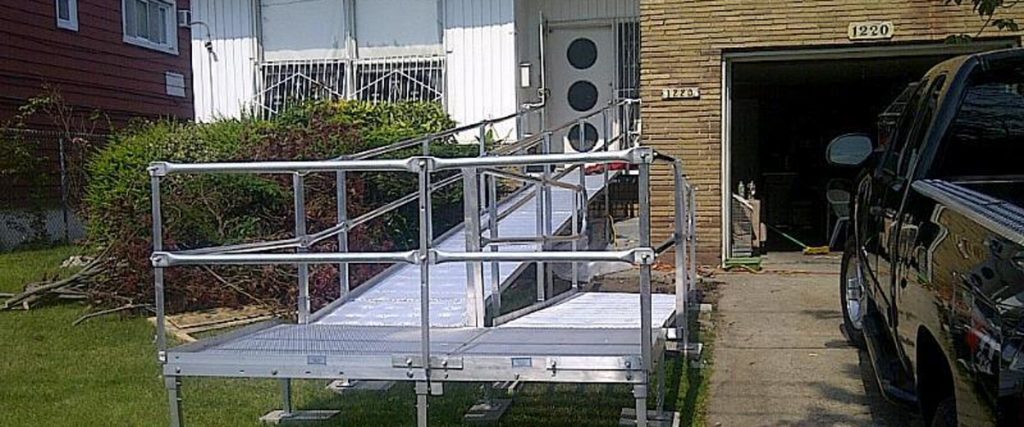 DIY (Do-It-Yourself) modular wheelchair ramps use multiple components to build a wheelchair ramp to fit virtually any property. They are usually sold in kits but can be modified by swapping, adding or removing components to come up with the required length and configuration. This durable device allows wheelchair and scooter users to access steps, multistoried buildings and raised landings with much ease. It can be installed in commercial as well as residential settings. It can be dismantled and moved as per the requirement.
National Seating & Mobility provides aluminum, steel and wooden modular wheelchair ramps along with their installation guides. The installation guide contains step-by-step construction plans that will guide you to set up your wheelchair ramp within a short time. They even offer modular ramps for rent for any temporary purposes you may have.
Choose a Suitable Layout for Your Modular Ramps
Straight Ramp with and without platform
Turn Platform with Ramp
Turn Ramps to Existing Landing
Turn Ramps to Second Platform
Turn Back Layout
These modular ramps are made of aluminum, steel and pressure-treated wooden materials. They have excellent weight capacity as the platform provides considerable stability.
Solid Surface Aluminum – It is an ideal choice for novice do-it–yourself individuals. It is 100% maintenance free and comes with a lifetime warranty against rust. It has anti-slip grooves so that it can be comfortably used in climates with little or no snow. Its extruded skid-resistant surface protects against slips and falls. It has a clean and modern appearance and can be installed in less than 30 minutes. Made of lightweight aluminum, the ramps, platforms and handrails are pre-assembled, so that you can save hours of tedious handwork. It can accommodate 850 pounds.
Open Mesh Aluminum – The surface of this ramp has an open mesh aluminum design which allows rain and melting snow to pass through, thereby drying the ramp quickly as well as providing excellent traction. It takes only a few hours to install this device. It is safe, 100% maintenance free and recyclable. It comes with a lifetime warranty against rust. It can accommodate 800 lbs of weight.
Open Mesh Coated Steel – This easy-to-install device is designed to last longer than the warranty period. It is stronger and more durable than painted steel ramps, as all the components of these ramps are coated with a durable powder-coated finish. It has an ADA-compliant mesh design which allows natural drainage, yet prevents small objects from passing through. It has a weight capacity of 800 pounds and comes with a 3 year warranty against rust.
Pressure Treated Modular Wood – Usually kiln-dried, premium pressure-treated southern yellow pine is used to construct wooden wheelchair ramps. It lasts long and protects against termite damage, rotting, and fungal decay. It is an ideal option for your existing wood decks and porches. It can be easily installed by advanced do-it-yourself and professional installers. In addition to that, it can enhance the value of your home while also improving its aesthetic appeal.
Benefits of Modular Ramps
Easy to relocate to a new location or sell them when no longer needed
Easy to modify by adding or removing components
Installation does not require any permanent alteration to a property
When removed, there will be no permanent indication the ramp was ever there
Designed to meet normal handicap access codes and all parts and hardware needed are supplied, including detailed assembly instructions
Buy Modular Ramps from a Reliable Dealer
National Seating & Mobility can help you to set up a ramp of your own; they supply top quality DIY modular ramps with all necessary parts and pieces. You can either build a ramp yourself or if you need any assistance to install your project, then their factory trained, full-time service technicians will provide you with professional installation services. Their certified technicians will visit you at your home and review the layout to decide on the right wheelchair ramp. You will receive a complete quote on the cost of the wheelchair ramp installation. With their experience and expertise, they will quickly and efficiently assemble your wheelchair ramp. You will be informed whenever the installation process gets completed, so that a final walkthrough can take place to ensure your satisfaction with the wheelchair ramp.
Did you know that 55% of all senior fall injuries happen inside their house?* As people age, they often lose some level of mobility, strength,…
Talking to your aging loved ones about their mobility challenges can be difficult. After all, you've likely spent your whole life seeking advice from your…
How NSM client Brandon Winfield is using technology to help make the world more accessible As creator of the iAccess.Life app, Brandon Winfield is used…