Differences in Wood, Steel and Aluminum Wheelchair Ramps
Wheelchair ramps, often referred to as Handicap Ramps, are one of the most universal ways to provide easy access to homes, schools, public places and businesses. People who use a mobility device such as a power or manual wheelchair or power scooter or even walkers will tell you what a welcome sight ramps are any time there are changes in elevation. In 2016, it was estimated over 2.2 million Americans depending on wheelchairs for mobility. Another 6.5 used canes, walkers or crutches to get around. There is a great need for wheelchair ramps in every arena of life. There are models for every situation.
Since each location is unique, the design and measurements will be individualized. Let one of NSM's professionals measure and design the layout so it meets all ADA standards. They are knowledgeable in knowing how much space is needed for turns and the safe degree of angels. We carry National Ramp Wheelchair Ramps. Next you can decide which material to craft your ramp from.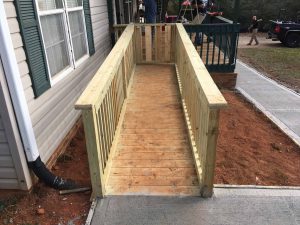 Wooden Wheelchair Ramps
The most economical investment up front
Great choice for private residences or small apartments or businesses
Pressure treated to endure weather
Warm natural look which can be painted or stained to match any style
Wood deck spacing to allow proper drainage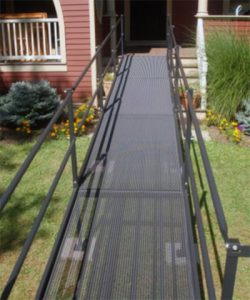 Steel Wheelchair Ramps
Attractive, heavy duty powder coated steel has a three year warranty
Textured flooring protects from slip and falls and allows for immediate drainage
Due to its modular design, it can be quickly put into any configuration for your property
The unique cone mounted rail guards offer extra strength and durability
Since it holds up to 800lbs, it is a good choice for residential, public or commercial use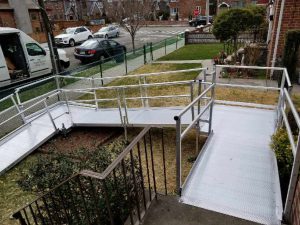 Aluminum Wheelchair Ramps
Lifetime warranty and 100% maintenance free
The only aluminum open mesh on the market. Offers amazing drainage
Maximum traction for best safety feature
Powder coated color options to complement style
800lb capacity makes it an excellent choice for commercial use
All of our Wheelchair Ramps are American made in modular sections making them the strongest safest and most durable ramps. The modular design makes them quick to install.
Did you know that 55% of all senior fall injuries happen inside their house?* As people age, they often lose some level of mobility, strength,…
Talking to your aging loved ones about their mobility challenges can be difficult. After all, you've likely spent your whole life seeking advice from your…
How NSM client Brandon Winfield is using technology to help make the world more accessible As creator of the iAccess.Life app, Brandon Winfield is used…