Custom Wheelchair Ramps – For Easy Access over Steps and Landings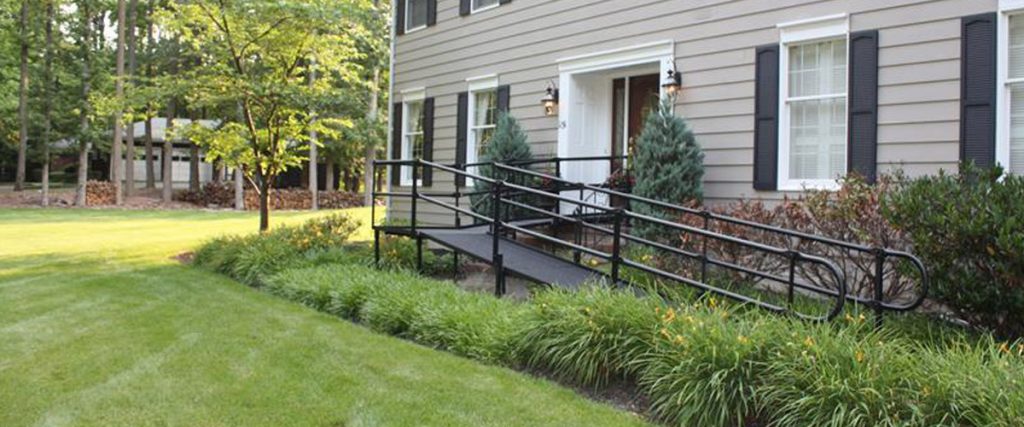 Installing ramps in residential and commercial buildings allow wheelchair and mobility scooter users to overcome the barriers posed by steps, raised thresholds and landings. Wheelchair ramps come in different types and include custom, modular and portable ramps. National Seating & Mobility offers an extensive range of custom wheelchair ramps for homes, institutions, and commercial buildings. These ramp systems are lightweight and portable, and yet extremely durable. They can be installed and also removed quickly.
Suitable as temporary or permanent fixtures, these ramp systems make home or office buildings wheelchair accessible. One of the major benefits of these ramps is that they can be easily installed and removed quickly.

Other features include –
Code-compliant mesh design – allows natural drainage
Easy installation – installs in hours, not days
Easy maintenance
Environmentally responsible – 100% recyclable
No rusting, no rotting, no splinters
Durable powder-coated finish
Vertical pickets
Slip resistant finish
Different Types of Custom Wheelchair Ramps
Here are the top three types of custom ramps available –
Aluminum Series – Featuring a unique welded cone-mounted hand rail design, aluminum ramps are strong and durable and can be easily installed within hours. A 2" safety curb on both sides of the ramp ensures safety and prevents the wheelchair from rolling off. Its multi-weld fabrication process ensures less deflection of the ramp surface.
Steel Series – Featuring a code-compliant mesh design (that allows natural drainage), this ADA-compliant ramp features a total weight capacity of 800 lbs. It has a textured finish for slip resistance. Steel ramps are available in Tuxedo Black that compliments any exterior finish. Extra aluminum parts eliminate high-maintenance issues. Other standard features include – 36″ width, galvanized silver handrails and cone-mounted hand rail design.
Wood Series – This series complements outdoor decks and patios better than steel or aluminum ramp systems. The ADA-compliant 36″ width model comes with a unique leg design that maximizes structural integrity. Floor board spacing gaps allow for drainage as well as natural expansion and contraction. These ramps also feature pressure treated wood to prevent rotting.
Choose a Reliable Dealer
If you are planning to invest in a ramp, find an accredited accessibility equipment dealer offering custom wheelchair ramps and portable ramps. National Seating & Mobility will help you choose the right option and also set it up quickly to meet your specific requirements.
Did you know that 55% of all senior fall injuries happen inside their house?* As people age, they often lose some level of mobility, strength,…
Talking to your aging loved ones about their mobility challenges can be difficult. After all, you've likely spent your whole life seeking advice from your…
How NSM client Brandon Winfield is using technology to help make the world more accessible As creator of the iAccess.Life app, Brandon Winfield is used…