Curved Stair Lift to Suit a Wide Range of Staircase Configurations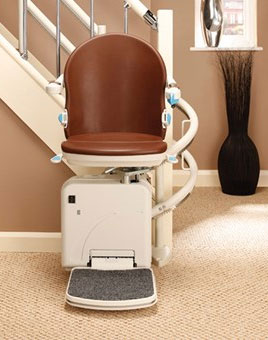 Climbing up and down the staircase is one of the most common challenges faced by older adults and people with mobility issues. Stair lifts resolve complex staircase challenges by allowing the user to glide up and down a flight of stairs easily and comfortably. National Seating & Mobility offers stair chair lifts to suit the different types of indoor and outdoor staircase configurations. If your home has a curved/spiral staircase with bends, turns or landings, then a curved stair lift is the ideal option. The device features a motorized seat that runs along a track attached to the side of the stairs (not the wall). The lift will faithfully follow every curve of the staircase from top to bottom and allow the user to travel up and down safely and comfortably in a seated/perched/standing position.
Quality curved stair chair lifts are integrated with high-end features to provide a smooth and safe ride. They come with a slim foldaway design that allows the device to be folded and kept out of the way when not in use, thereby enabling the free flow of regular stair traffic. Some of the common safety features incorporated in these devices include swivel seat, hand-held remote controls (allows users to 'call' or 'send' the lift up and down the staircase), lockable key switch (to prevent unauthorized use), seat belt and safety sensors that automatically stop operation if any specific obstruction is encountered.
Bruno Elite Curved – Featuring a safe, durable design, this model can be on virtually all types of curved stairways. It comes with a total weight capacity of 400 lbs and a strong, resilient drive system that ensures safe operation and durability.
Buying a curved stair lift can be confusing. To choose the right option, get informed advice from National Seating & Mobility.
Did you know that 55% of all senior fall injuries happen inside their house?* As people age, they often lose some level of mobility, strength,…
Talking to your aging loved ones about their mobility challenges can be difficult. After all, you've likely spent your whole life seeking advice from your…
How NSM client Brandon Winfield is using technology to help make the world more accessible As creator of the iAccess.Life app, Brandon Winfield is used…