Complement Your Exterior with a Wooden Ramp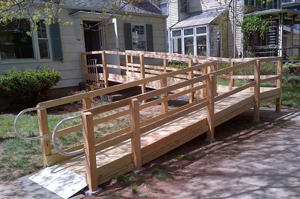 Installed over steps, thresholds or doorways, ramps allow wheelchair and mobility scooter users to access steps, vehicles and raised landings with ease. These accessibility systems are durable and easy to assemble. National Seating & Mobility will help configure the product you choose to meet your requirements. Compared to aluminum systems, wooden ramps are special because they can be customized to complement your exterior.
If you are thinking of buying a wooden ramp, consider choosing a product from National Ramp's Wood Ramps Series. National Seating & Mobility offers modular wood systems from this manufacturer that come with the safest walking surface and are affordable too. They can be painted or stained to match your deck or patio. These systems feature a unique leg design to maximize structural integrity and are constructed from pressure treated wood to prevent rotting.
Key features include
Built of kiln-dried premium pressure treated southern yellow pine
Wood decking spaced to allow for drainage as well as natural expansion & contraction
ADA-compliant 36″ width
Easy installation within hours
Economical but enduring
Clean, modern appearance
Vertical pickets and steps available
Purchase your wooden ramp from National Seating & Mobility. National Seating & Mobility has experienced engineers who are fully factory trained. The team will visit your site, measure for your ramp, and evaluate your specific needs. After fabricating your wooden ramp, these technicians will install it quickly and efficiently.
Did you know that 55% of all senior fall injuries happen inside their house?* As people age, they often lose some level of mobility, strength,…
Talking to your aging loved ones about their mobility challenges can be difficult. After all, you've likely spent your whole life seeking advice from your…
How NSM client Brandon Winfield is using technology to help make the world more accessible As creator of the iAccess.Life app, Brandon Winfield is used…