Commercial Wheelchair Lifts – Designed for Low-Rise Travel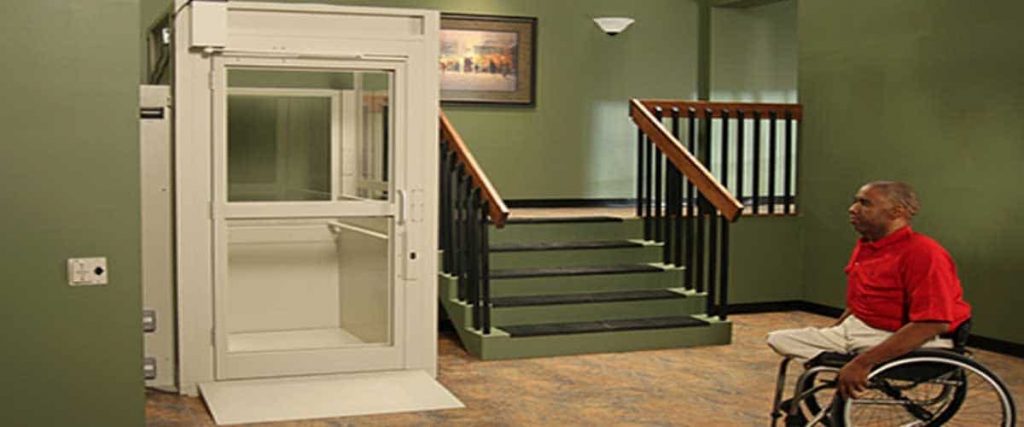 Commercial wheelchair lifts are a perfect choice for use in schools, offices, churches and public buildings. This lift can accommodate a wheelchair along with its occupant and transport them to or from stages, platforms, porches or decks. It can help overcome steps or similar vertical barriers in low-rise commercial buildings and is suitable for both internal and external applications. ADA (Americans with Disabilities Act)-compliant commercial wheelchair lifts can be purchased from National Seating & Mobility. This affordable, space saving solution is easy to install and operate. It does not require any pit or separate machine room. These lifts come in stylish and attractive designs, and offer a quiet and smooth ride.
Features
Safe, durable and dependable
Easy to maintain
750 lb lifting capacity
Automatic self-lowering folding ramp
Bottom platform safety panel
Top/bottom limit switches
Upper/lower final limit safety switches
Non-skid platform
Reliable, quiet ACME screw-driven DC motor with continuous charge battery operation provides access even in a power outage
Emergency stop and audio/visual alarm
Weather-protected controls, switches and powder-coated finish
Keyed, constant pressure controls on platform
Usually comes with a two-year warranty on major components and one-year on parts
Popular Models of Commercial Wheelchair Lifts
Bruno is an industry-leading manufacturer of high quality commercial wheelchair lifts, and these products can be purchased from National Seating & Mobility.
Unenclosed Vertical Platform Lift – This device can travel up to 60″. It comes with weather-protected controls for indoor or outdoor applications.
3-Gate Commercial VPL – This lift can access up to 53 inches.
Enclosure Commercial VPL – This vertical platform lift is aesthetically-pleasing with full size plexiglass door and panel inserts. It provides access up to 14′.
Locate a Licensed Dealer
Make sure that you buy commercial wheelchair lifts from a licensed and accredited company that can make available both residential and commercial wheelchair lifts for your low-rise building. With a team of certified technical experts, National Seating & Mobility can install your vertical platform lifts with minimal structural modification for your building.
Did you know that 55% of all senior fall injuries happen inside their house?* As people age, they often lose some level of mobility, strength,…
Talking to your aging loved ones about their mobility challenges can be difficult. After all, you've likely spent your whole life seeking advice from your…
How NSM client Brandon Winfield is using technology to help make the world more accessible As creator of the iAccess.Life app, Brandon Winfield is used…