Bruno Exterior Stair Lifts – Navigate Outdoor Stairs with Confidence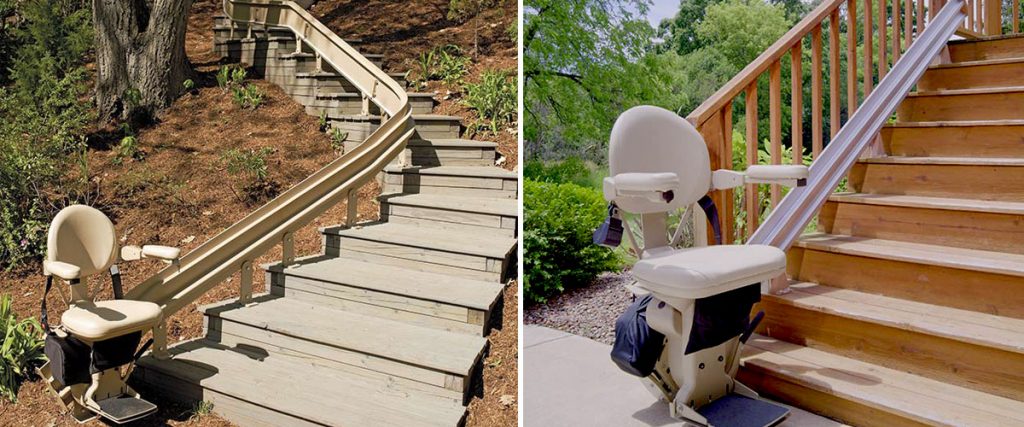 Aging and mobility issues can make using stairs difficult, especially exterior stairs that lead from the doorway or porch to the garden. Installing an exterior stair lift is the perfect solution to this problem. Designed to provide a hassle-free ride, the lift allows users to move up and down an outdoor staircase safely and comfortably, and helps them regain their independence. National Seating & Mobility offers high-quality exterior stair lifts from top brand Bruno.
Designed to withstand varying climates, the Bruno Elite exterior stair chair lifts features weather-resistant seat materials, a lightweight cover, and an anodized aluminum rail system. The weather-protection features ensure high-quality performance of the stair lift even in extreme temperatures.
Bruno's exterior stair lifts come equipped with advanced safety mechanisms such as obstruction safety sensors, retractable seat belt, offset swivel seat, hand-held remote controls and soft start/stop button. The seat comes in generous sizes with multiple height adjustments. The seat rest, footrest and armrests all fold up and out of the way when not in use, improving the total available space.
Bruno Exterior Stair lift Models
Bruno exteriors stair chair lifts come in two different models –for straight stairs and for a curved stairs.
Bruno Elite Straight (SRE 2010E) – Featuring a weather-resistant cover system, this straight stair lift is engaged by either of two, easy-to-use levers, providing simple and durable protection. It comes with clear anodized aluminum rail for outdoor use. Other additional features include – marine-grade vinyl padded seat and armrest, offset swivel seat; flip-up arms; folding footrest/seat, two 12-volt batteries (for uninterrupted performance), and weight capacity – 400 lb (181 kg).
Bruno Elite Curved (CRE 2110E) – Built to precisely follow the angles of your stairs, this CRE-2110E model provides a smooth, comfortable ride. With a total weight capacity of 400 lbs (181 kg), this exterior curved stair lift comes with footrest/carriage safety sensors that immediately stop the unit when any obstruction is encountered. The optional top or bottom park position enhances safety by extending the rail away from stairs. Other standard features include – onboard audio/visual diagnostics (for easy service), offset swivel seat, adjustable footrest height, self-locking worm gear; rack-and-pinion drive system and two 12-volt batteries.
Find a Reliable Dealer
Buying your lift from National Seating & Mobility would ensure competitive pricing, efficient installation support and dedicated technical support to keep the device in perfect working condition.
Did you know that 55% of all senior fall injuries happen inside their house?* As people age, they often lose some level of mobility, strength,…
Talking to your aging loved ones about their mobility challenges can be difficult. After all, you've likely spent your whole life seeking advice from your…
How NSM client Brandon Winfield is using technology to help make the world more accessible As creator of the iAccess.Life app, Brandon Winfield is used…