Bruno Elite Stair Lift for Easy and Safe Access over Curved Stairs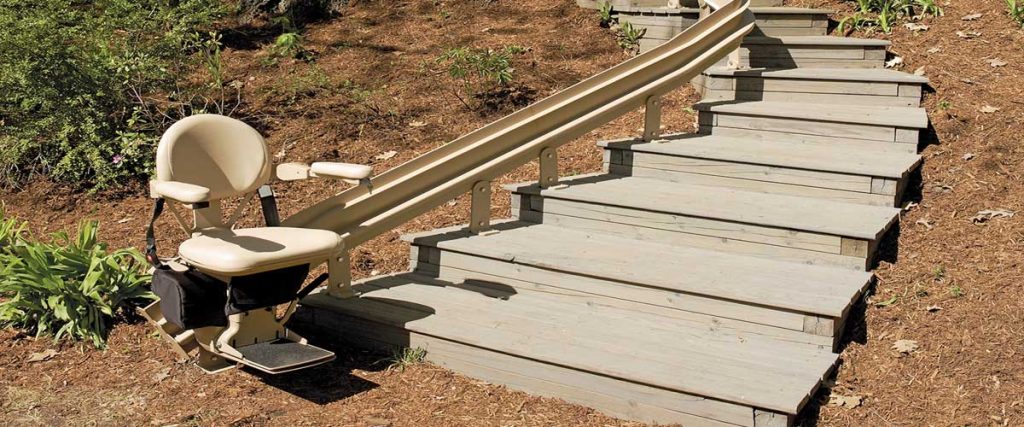 Curved stairs can add beauty and elegance to a home, but can become a major barrier if a family member develops mobility issues. Spiral stair designs can make climbing and descending the stairs a risky task, especially for older adults with mobility issues. Curved stair lifts are designed to overcome this problem. These devices can be custom-installed on different types of staircases – those with corners, multiple landings, spirals, and other design challenges. National Seating & Mobility offers premium quality curved stair lifts. The Bruno Elite Curved stair lift is a high-end model that combines functionality and aesthetic elements.
This curved stair lift can be mounted directly to the steps on either side of the staircase and its rail can be placed as close as 7" from the wall. The chair's seat, footrest and armrests can be folded up, creating plenty of room for family members and other guests to use the stairs unimpeded. It comes with a strong, resilient drive system (including a self-locking worm gear and a strong rack-and-pinion drive system).
The Bruno Elite curved stair lift comes with several safety features – locking swivel seat, footrest and carriage safety sensor, retractable seat belt, adjustable footrest height, and obstruction sensors. The offset swivel seat makes the entry and exit position at the top landing safer and easier for users. The optional top or bottom park position provides additional security when entering or exiting. In addition, the footrest and carriage safety sensors stop the unit even if the slightest obstacle is encountered its path during the ride. Other standard features include –
Charging-station indicator lights (at the top and bottom of the stairway)
Generous seat size – 17.75" (451 mm) adjustable to 21.75" (552 mm) between the arms
Onboard audio and visual diagnostics for instant unit status
Two remote, wireless call/send controls
Adjustable seat height and footrest height
Flip-up arms for easy wheelchair transfers
Adjustable armrest width
Direct drive motor/gear box
The curved stair chair lift comes with a total load capacity of 400 lbs. The two 12-volt batteries can be continuously powered from any household outlet, allowing the device to function even during power outages.
If you are planning to purchase the Bruno Elite Curved Stair lift, choose a reliable dealer. National Seating & Mobility ensures benefits such as competitive pricing, professional installation, and efficient maintenance support.
Did you know that 55% of all senior fall injuries happen inside their house?* As people age, they often lose some level of mobility, strength,…
Talking to your aging loved ones about their mobility challenges can be difficult. After all, you've likely spent your whole life seeking advice from your…
How NSM client Brandon Winfield is using technology to help make the world more accessible As creator of the iAccess.Life app, Brandon Winfield is used…