Bruno Elan Stair Lift – For Easy Access over Straight Stairs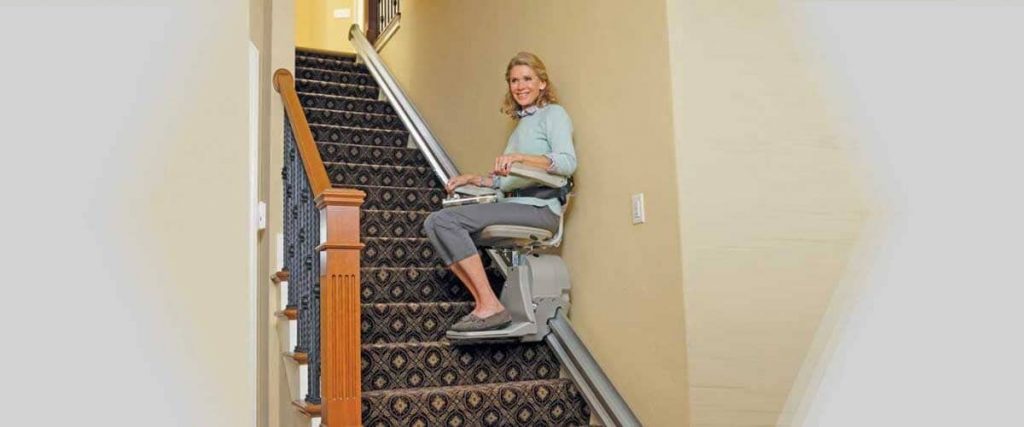 Stairs pose a major barrier for seniors and people with mobility impairments. Installing a stair lift is a practical solution to the problem. This motorized device is designed to help the user navigate a staircase easily, independently and safely. National Seating & Mobility offers different models of stair chair lifts for straight and curved staircases. If your home staircase features a straight line of stairs, with no curves or corners, then the Bruno Elan Stair lift could be the ideal option. Equipped with advanced features, the Elan sets the benchmark for style, performance and affordability. Simplicity in design makes the Elan easier and less costly to install than any other stair lift.
Elan – Simple Design and Innovative Features
This stairlift can be installed on either side of the staircase. The vertical, anodized rail can be installed within 5 inches (127 mm) from the wall. Featuring a rack and pinion drive system, the Elan offers a smooth and quiet ride while the rail hides all mechanical components. It comes with a maximum load capacity of 300 lbs along with a generous seat size with multiple seat heights. The arms, seat and footrest flip up, creating plenty of space to walk up the stairs. The device comes with a swivel seat and adjustable seat height for easier entry/exit at the top and bottom of the stairway. In addition, flip-up arms ensure easy wheelchair transfers.
The Bruno Elan Straight stair lift is integrated with a wide range of safety features such as – locking offset swivel seat, two remote wireless call/send controls, flip-up footrest, footrest and carriage safety sensor, seat belt with buckle, electromagnetic braking system and overspeed brake system.
Equipped with two 12V batteries that are powered by a small, unobtrusive battery charger, the straight stair lift provides uninterrupted performance even during power outages. The full-length charge strip allows the unit to charge anywhere along the rail. Other standard features include –
Audio diagnostics makes service easier and more precise
Standard track length of – 15' 9" (4.8 m) – two 7' 10.5" (2.4 m) sections
Optional track length of – 19' 8" (6 m) – two 9' 10" (3 m) sections
Optional track lengths up to 31' 6" (9.6 m)
Self-locking worm gear
Soft-start provides smooth operation
Generous seat size – 17.5" (444 mm) seat pad width & 20" (508 mm) width between the arms
Contoured seat for maximum comfort
Elegant covered track
Direct drive motor/gear box – no belts for reduced maintenance
Two wireless call/send controls make installation simple and clean with no wires running along the wall
Partner with a Reliable Dealer for Stair Lift Purchase
When it comes to purchasing the Bruno Elan straight stair lift, choosing a reliable and reputable accessibility equipment dealer would offer many benefits. National Seating & Mobility would provide professional installation support as well as dedicated maintenance services to ensure that your device performs efficiently all the time.
Did you know that 55% of all senior fall injuries happen inside their house?* As people age, they often lose some level of mobility, strength,…
Talking to your aging loved ones about their mobility challenges can be difficult. After all, you've likely spent your whole life seeking advice from your…
How NSM client Brandon Winfield is using technology to help make the world more accessible As creator of the iAccess.Life app, Brandon Winfield is used…