Bruno Commercial Wheelchair Lifts – For Safe and Convenient Access in Public Settings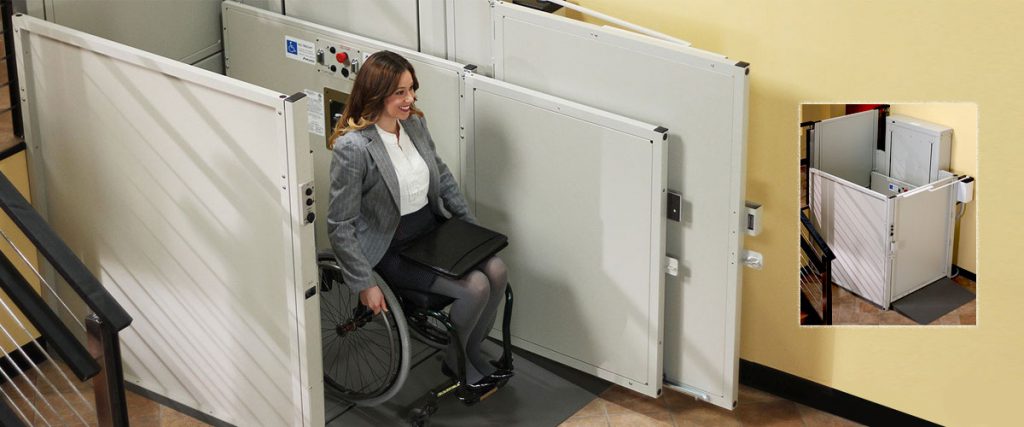 Wheelchair and mobility scooter users face challenges when it comes to accessing stairs in commercial buildings. Designed to overcome these challenges, commercial wheelchair lifts can provide safe access in low-rise buildings. These devices allow users to enjoy a safe and smooth floor to floor travel without leaving the comfort of their wheelchair. National Seating & Mobility offers top quality commercial wheelchair lifts from industry leader Bruno.
Ideal for use in commercial buildings like schools, universities, office buildings, churches, auditoriums, colleges and common areas in multi-family dwelling units, Bruno wheelchair lifts are built to accommodate wheelchairs of varying sizes, and can be used both indoors and outdoors. When compared to ramps, these lifts require less space and are quite easy to install and configure. Commercial wheelchair lifts from Bruno comes integrated with a wide range of safety features like –
Weather protected controls and switches
Platform safety panel
Paddle landing control
Interlock system
Emergency stop button
Constant pressure controls on platform
Audio-visual alarm
Commercial Wheelchair Lifts – Top Three Bruno Models
Here discussed are the top three models of commercial wheelchair lifts from Bruno –
Unenclosed commercial VPL – This is an affordable, ADA-compliant space saving solution that is perfect for indoor or outdoor applications. Ideal for churches, schools or businesses, this unenclosed vertical platform lift provides an access up to 60″. It comes with weather-protected controls and automatic self-lowering folding ramp. Other additional features include – constant pressure platform controls, bottom platform safety panel, emergency stop button, audio/visual alarm and keyed and power assisted door/gate operator.
3-Gate Commercial VPL – This 3-Gate wheelchair lift comes with fixed ramp option and bottom platform safety panel. It provide access up to 53 inches with a quiet, smooth ACME screw-driven DC motor with continuous charge battery operation for performance even during power outages. The commercial wheelchair lift comes equipped with several advanced safety features like – audio/visual alarm system, emergency stop switch, paddle landing controls, constant pressure controls on platform and flush mount doors with interlock system.
Enclosed Commercial VPL – With an attractive design, this self-contained, light weight vertical platform lift can provide access up to 14′. The device is quite easy to install as it requires no hoist-way/shaft-way construction. It comes with an ACME screw-driven DC motor with full-time battery operation for dependable performance. Other standard features include – automatic folding ramp, load capacity – 750 lb (340 kg), top and bottom final limit safety switch and non-skid platform.
To learn more about Bruno commercial wheelchair lifts, contact National Seating & Mobility.
Did you know that 55% of all senior fall injuries happen inside their house?* As people age, they often lose some level of mobility, strength,…
Talking to your aging loved ones about their mobility challenges can be difficult. After all, you've likely spent your whole life seeking advice from your…
How NSM client Brandon Winfield is using technology to help make the world more accessible As creator of the iAccess.Life app, Brandon Winfield is used…