Bruno Commercial Wheelchair Lift Installed for a Westfield Insurance Agency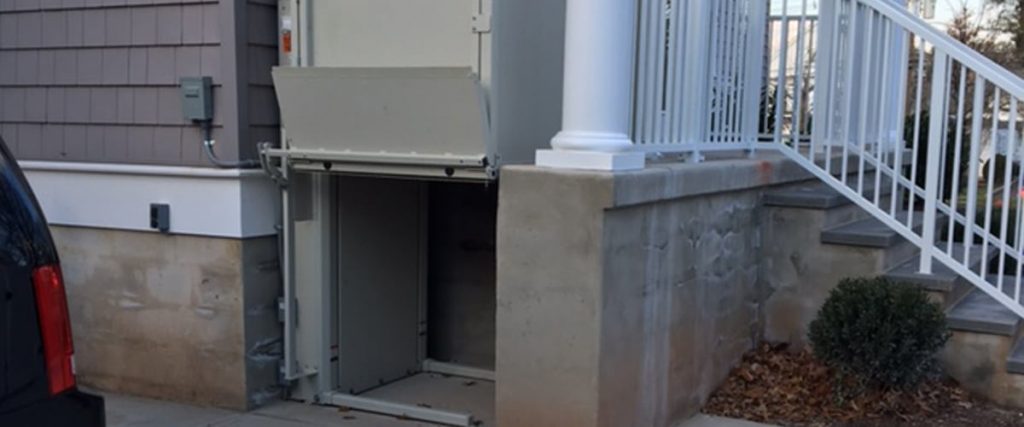 Overview
An established low cost provider of commercial office conversion accessibility products, National Seating & Mobility has years of experience in helping businesses meet state and city code compliance. We recently completed an outdoor wheelchair lift installation project successfully for the Allstate Insurance office in NJ.
The Challenge
Allstate Insurance took over an older building in South Avenue Circle in Westfield, New Jersey. The building was once a home and they renovated the entire structure to suit their business needs. For renovation projects as well as for new buildings, it is important that the building provides barrier-free access between floors. They contacted us to provide a suitable accessibility solution for their building.
The Solution
To improve accessibility for wheelchair bound individuals, our team installed a Bruno VPL 3353B Commercial Wheelchair Lift for the office building. This self-contained, lightweight unit does not require any hoist-way/shaft-way construction. Aesthetically-pleasing with full size Plexiglas's door and panel inserts, this enclosed vertical platform wheelchair lift comes with keyed, constant pressure controls and an emergency stop switch and audio/visual alarms.
The client was satisfied with the solution that we provided. State inspections for the building are over and the business has been issued their occupancy permits.
Did you know that 55% of all senior fall injuries happen inside their house?* As people age, they often lose some level of mobility, strength,…
Talking to your aging loved ones about their mobility challenges can be difficult. After all, you've likely spent your whole life seeking advice from your…
How NSM client Brandon Winfield is using technology to help make the world more accessible As creator of the iAccess.Life app, Brandon Winfield is used…