Advantages of Trifold and Single Fold Portable Wheelchair Ramps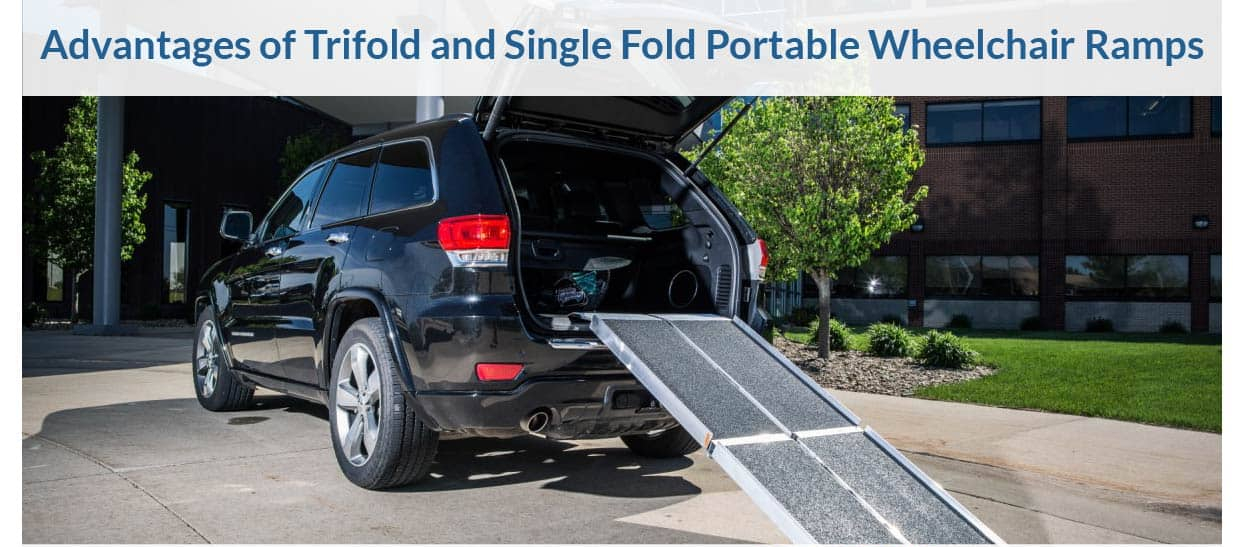 The advantages of having a portable ramp are as many as the different applications you will use it for. It is definitely one of the most versatile accessibility products available. They fold out to give you safe access wherever you go. The ramps simply fold up suitcase style to offer easy transport and storage of the ramp. Take it with you wherever you go in your vehicle. You never know what situations you will get into where you need a ramp and one is not available (like a curb or inaccessible steps at a friend's home, doctor visit, shopping, park, movie, church…) They can handle the heavy weight of a power scooter,  motorcycle or two people and a mobility device.
You need to consult your Accessibility professional to determine which size foldable handicap ramp you need, and which length is best for you. The trifold sections can be folded out three times for easy storage, or be easily split into two folded sections for lighter transport. The single fold ramps come in shorter lengths and require only one fold. The all have a suitcase style handle to carry them with. They are durable, have non-skid surfaces and can be semi-permanently staked into place or used for many other purposes such as listed:
To easily access wheelchairs or scooters in and out of vans or minivans.

Take them when riding in a non-equipped vehicle.

To make your home accessible when a friend or relative is visiting.

To take with you when visiting a family or friend's home that is not accessible.

Many have used these portable ramps for access ramps for mowers, four wheelers and motorcycles into a shed or the back of a truck or trailer.

To grant access up/down a back porch or front entrance.

To give safe easy access into a lower garage.

To give temporary access anywhere you go.
Ask your Accessibility Professional to help you find the perfect size for your particular needs. Ask about the warranty. Find out how taking a portable ramp with you opens up your world to whatever situation that is before you.
Did you know that 55% of all senior fall injuries happen inside their house?* As people age, they often lose some level of mobility, strength,…
Talking to your aging loved ones about their mobility challenges can be difficult. After all, you've likely spent your whole life seeking advice from your…
How NSM client Brandon Winfield is using technology to help make the world more accessible As creator of the iAccess.Life app, Brandon Winfield is used…