NATIONAL SEATING & MOBILITY SERVES AS OFFICIAL ADA SPONSOR OF 2023 PILGRIMAGE MUSIC & CULTURAL FESTIVAL
NASHVILLE, Tenn. (Oct. 2, 2023) — National Seating & Mobility (NSM), North America's largest provider of comprehensive mobility solutions, served as the official ADA sponsor of the 2023 Pilgrimage Music & Cultural Festival Sept. 23-24. This marks the fourth consecutive year of NSM's partnership with the Franklin, Tenn.-based festival, and the largest weekend attendance on record for the event. NSM's sponsorship included ADA Accessible viewing platforms for attendees with disabilities during the two-day event.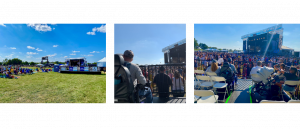 "The Pilgrimage Festival is an incredible opportunity in our corporate headquarters' hometown to support individuals with disabilities who travel from all over to hear their favorite artists," said Chuck Bodner, NSM interim CEO. "We are proud to have served as the festival's official ADA sponsor for the fourth year and are always excited to do our part in ensuring that our platform guests have the opportunity to see and enjoy the diverse lineup of talent throughout the weekend."
NSM sponsored ADA Accessible viewing platforms that provided an unobstructed view of the two Pilgrimage Festival main stages for those with disabilities. NSM team members hosted the platforms and provided complementary water bottles for guests.
"Pilgrimage Festival merges the power of music and community," said Brandt Wood, event co-founder. "We appreciate NSM's continued support in helping us ensure that all our guests have the opportunity to fully enjoy the diverse and welcoming experience that is truly unique to this event."
The ninth annual Pilgrimage Festival featured headliners including The Lumineers, Zach Bryan, Nathaniel Rateliff & The Night Sweats, The Black Crowes and The Head and The Heart. A variety of additional acts performed across five stages throughout the weekend.
NSM's sponsorship also included event signage and exposure on the festival website (www.pilgrimagefestival.com), the official festival app and through Pilgrimage social channels. In addition to the NSM-sponsored accessible viewing platforms, Pilgrimage Festival works to incorporate accessibility in other areas of the event.
About National Seating & Mobility
With a network of 200+ locations across the U.S. and Canada, National Seating & Mobility (NSM) is North America's largest and most trusted provider of comprehensive mobility solutions including complex rehab technology (CRT), home and vehicle accessibility, and full-service maintenance and repair. NSM has been advancing independence and enhancing the quality of life of individuals who use mobility solutions for more than 30 years. The company has more than 2,600 dedicated team members caring for more than 300,000 clients annually. Since 2006, NSM is the only national mobility solutions provider that is accredited by The Joint Commission and voluntarily undergoes a rigorous review process every few years to ensure and validate the company's commitment to providing safe, quality care for our valued customers. For more information on NSM, visit www.nsm-seating.com.
###
Contact:
Angie VanTassell, angie@aldaypr.com
@mobilityNSM / LinkedIn / Facebook.com/NSMobility