NATIONAL SEATING & MOBILITY BECOMES THE FIRST NATIONAL PROVIDER IN THE US TO SUPPLY MUNEVO DRIVE TECHNOLOGY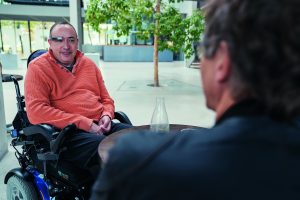 NASHVILLE, Tenn. (June 26, 2023) — National Seating & Mobility (NSM), North America's largest provider of comprehensive mobility solutions, is partnering with Germany and New York-based munevo, Inc. to bring the munevo DRIVE revolutionary smart glass alternative drive control for power wheelchairs to the U.S. The munevo DRIVE technology has already empowered independence for power chair users in Europe and will now be available in the U.S. through NSM as the first and exclusive national provider.
"NSM is proud to offer uniquely engineered systems and breakthrough technology solutions to support the independence of those living with a broad spectrum of mobility needs," said Darren Lowman, NSM chief transformation officer. "The munevo DRIVE is no exception. A partnership with munevo allows us to further support our clients with a transformative technology that offers a greater level of independence and freedom that was previously not possible to our clients."
The munevo DRIVE's innovative wireless smart glass technology offers users an adaptable and intuitive proportional head control, providing a progressive alternative to traditional switch-based head arrays, sip-n-puff systems and chin controls. The munevo DRIVE's power to self-calibrate the controls offers a comfortable and easy-to-use mobility solution for individuals with a wide spectrum of conditions such as ALS, Multiple Sclerosis or a spinal cord injury. The slight tilting movements of the head are recognized by the smart glass and converted into control signals, allowing users with minimal head mobility to move their wheelchairs independently and safely.
"Munevo DRIVE's cutting-edge technology offers a high degree of precision and responsiveness, creating a smooth and natural driving experience," said Claudiu Hidas, munevo CEO. "This product has already helped hundreds of power wheelchair users in Europe achieve greater independence and our partnership with NSM makes it possible to bring this life-changing accessory to the U.S. Through this partnership and the recent opening of a U.S. subsidiary and offices in New York, munevo is poised to make an even greater impact on power chair users in the U.S. market."
The munevo Drive technology debuted in the U.S. at the 2023 International Seating Symposium. Prior to this debut, NSM conducted client trials of the product that resulted in positive feedback and strong interest in the new technology from participants.
"NSM and munevo share a passion to expand access to innovative client-centric technologies that further the independence of those we serve," said Lowman. "Munevo DRIVE is a game-changing accessory for power chairs, and we are proud to introduce this alternative drive solution to power chair users, therapists and caregivers in the U.S."
About National Seating & Mobility
With a network of 200+ locations across the U.S. and Canada, National Seating & Mobility (NSM) is North America's largest and most trusted provider of comprehensive mobility solutions including Complex Rehab Technology (CRT), home and vehicle accessibility, and full-service maintenance and repair. NSM has been advancing independence and enhancing the quality of life of individuals who use mobility solutions for more than 30 years. The company has more than 2,600 dedicated team members caring for more than 300,000 clients annually. Since 2006, NSM is the only national mobility solutions provider that is accredited by The Joint Commission and voluntarily undergoes a rigorous review process every few years to ensure and validate the company's commitment to providing safe, quality care for our valued customers. For more information on NSM, visit www.nsm-seating.com.
About munevo, Inc.
Munevo Inc. is the US subsidiary of munevo GmbH founded and manufactured in Germany, that arose out of the desire to enable people with particularly severely impaired mobility to lead a self-determined life. The munevo DRIVE system enables people with diseases such as ALS or multiple sclerosis as well as spinal cord injuries, to operate their power wheelchairs with ease and hands-free.  As a result of their impairments, those affected are often dependent on the help of other people or on expensive and uncomfortable steering systems. The idea for munevo was developed during a university course at the chair of business informatics at the Technical University of Munich (TUM). Our goal was to develop a smart-glass app that would have a positive impact on the mobility of people in wheelchairs by providing a less stigmatizing and more comfortable control system. Munevo's head office is located out of Munich, Germany with a U.S. branch in New York, NY. For more information visit us.munevo.com or munevo.com.
###
For more Information:
Angie VanTassell, angie@aldaypr.com
@mobilityNSM / LinkedIn / Facebook.com/NSMobility