Welcome to the NSM Monthly Minute
In this issue:
Introducing Let's Get Moving Magazine

The Next Crisis: Unsafe Housing for an Aging America

Products Showcase: One Step Closer to Medicare Coverage for Power Seat Elevation & Standing

NSM Client Spotlight: Kellie Morris
Introducing Let's Get Moving Magazine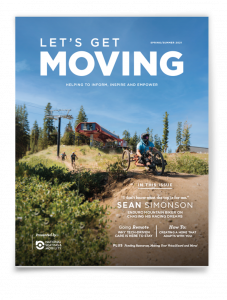 Dear Valued Clinical Partner,
We wanted you to be one of the first to receive the inaugural issue of Let's Get Moving magazine presented by National Seating & Mobility!
Let's Get Moving magazine was created with the mobility and accessibility equipment user in mind. More specifically, the magazine showcases people doing great things and living life to the fullest, it also explores product trends, legislative opportunities and thought-provoking editorial focused on informing, inspiring and empowering readers.
Let's Get Moving magazine will be published twice per year with Spring/Summer and Fall/Winter issues. Each issue will be available in both print and digital formats for distribution to our clients and clinical partners.
I hope you enjoy reading the first issue of Let's Get Moving magazine. This first issue would not have been possible without the support of our sponsors: Invacare, Ki Mobility, MK Battery, Permobil, Pride and Quantum. After you read the first issue, please share your feedback and ideas for future issues by emailing feedback@nsm-seating.com. We are always looking for great people doing great things, including clients, caregivers and clinical partners.
Let's Get Moving, Together!
Bill Mixon
CEO, National Seating & Mobility
The Next Crisis: Unsafe Housing for an Aging America
Article written by Louis Tenenbaum, founder and president of the HomesRenewed™ Coalition, Washington, D.C.
2021 has been a year of great progress for the HomesRenewed movement, despite the constraints of COVID-19. In fact, the tragic truth about unsafe conditions in senior congregate housing, highlighted by the pandemic, combined with increased use of telehealth, has propelled us forward.
Foremost is the growing interest on Capitol Hill. We've hired top-notch Washington insiders, The Sheridan Group, to map our strategy and manage our campaign. As a result, Susan Kimmel, vice president, HomesRenewed™ Coalition, Washington, D.C and I have had more than a dozen meetings with Congressional staffers in the past few weeks.
As we've laid out in an extensive white paper our Congressional efforts focus on developing tax policy to allow the use of 401k/IRA-type, pre-tax retirement savings to pay for home modifications without taxes or penalties. This would benefit a large part of the population through market-based approaches that encourage the use of your own money, reduce government healthcare spending, and empower older Americans and their families.
We are getting positive results from both sides of the aisle, and prospects look good for getting our recommendations into legislation this year. It is time for all of us to take action now. During the next few months, we will enter the next phases of our campaign, which will include developing legislative language and grassroots outreach to key legislators as the specifics of the new policies are decided. Visit HomesRenewed website for more information about how you can help. We will keep you updated as the bill is written, and  communications and tools are finalized so you can contact your local representative to show your support.
In the meantime, you can learn more about the NSM Essential Checklist for making your patients' home accessible.
Monthly Products Showcase: One Step Closer to Medicare Coverage for Power Seat Elevation & Standing
It was announced that CMS will soon release the revised National Coverage Determination (NCD) for public comment. This is the next step in extending Medicare coverage for Power Seat Elevation and Standing systems by establishing them as medical in nature along with coverage criteria. The CRT Industry continues to work with the ITEM Coalition and will be supplying resources and tools to allow organizations and individuals to submit supporting comments once the comment period begins. There is a website being created that will mobilize clients and industry advocates to submit comments once it is ready to go. NSM continues to support this effort through the Seat Elevation Initiative and increasing attachment rate. To learn more click the button below to visit ITEM Coalition's website, or contact your local NSM location to learn more.
Monthly Minute Archive
Click 'Expand' to Access Past Issues
NSM Client Spotlight: Kellie Morris
On any Wednesday afternoon you might catch the Quad Crushers, a wheelchair rugby team, practicing at Middle Tennessee State University. Even during practice, chairs collide on the court, evidence of the fast-paced, fiercely competitive full contact, co-ed wheelchair sport that Kellie Morris enjoys.
Kellie has been an athlete her entire life. Growing up through high school she was on the basketball and softball teams and played rugby in college at the University of Tennessee. She fell in love with rugby, which proved a great way to make friends and alleviate stress, because hitting your competitors on the field and remaining friends after a match is all part of the game. After sustaining a spinal cord injury from a diving accident in 2012 during her second year of college, it took a year before she was ready to try playing sports again. Once she did, athletics has been back in her life ever since. In addition to wheelchair rugby, Kellie's been involved in wheelchair football and sled hockey and has softball and water skiing still on the list.
When she's not working at Bass Pro Shop or the community recreation center, she's either in a tournament, enjoying off road hand cycling, working out or attending some type of concert. She has seen her favorite band, Paramore, 17 times. Kellie and her dad also have Nashville Predators season tickets.
A recent MTSU graduate with a business degree, Kellie plans to move back to her home state of Ohio this spring. While she admits life is extremely different following her accident, she emphasizes the importance of living the life you have, never doubting yourself and being determined to make the best out of any situation. Her performance-driven, active lifestyle showcases her philosophy in action.