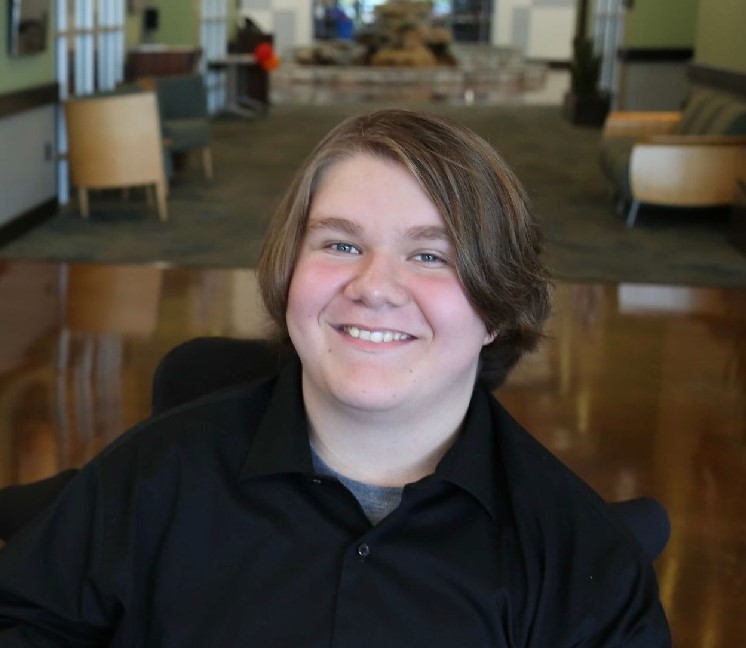 PERSONAL STORIES THAT INFORM, INSPIRE AND EMPOWER
CREATING CHANGE
At 16 years old, Alex Johnson is already working to make the world more accessible.
The key, he says, is opening people's eyes to what it's really like to use a wheelchair, from navigating heavy doors and steep ramps to reaching the top shelf in the grocery store. "I got the idea for Spend a Day in My Wheels when I was in fifth grade," Alex recalls. "I just really wanted people to understand the struggle and what it's like to live life in a wheelchair, and I wanted to help make it better."
With the help of his dad, Nathan, and the Permobil Foundation, Alex created Spend a Day in My Wheels. Armed with 15 manual wheelchairs, Alex challenges legislators, classmates, businesses—anyone who's up for the challenge—to spend a day navigating life in a wheelchair. "We give them a set list of tasks we want them to complete," Alex says.
"We definitely want them to visit the bathroom and try accessible parking. If it's an office, we want them to go to the break room and get coffee. At schools, we challenge them to go through the lunch line or visit the vending machines. The goal is for them to figure out how to do very simple tasks that are more difficult from a wheelchair."
My goal is to advocate, to help people reach a better understanding of accessibility needs and make a change.
Since beginning Spend a Day in My Wheels in 2018, the
Johnsons have conducted 18 programs throughout the
Middle Tennessee area, from students at Alex's school
to members of the Nashville Predators staff. Over the
years, Alex has noticed a few common themes emerge
in the issues participants' face.

"The restroom is always a big issue, getting in the
stall or getting to the toilet," Alex says. "At offices and
schools, heavy doors can cause problems because
they're hard to open and close quickly. Throw rugs can
get wrapped up in a wheel or create a huge hump you
can't get over."

While many of Alex's Spend a Day in My Wheels
challenges take place in buildings that meet
Americans with Disability Act (ADA) requirements, the
exercise often helps participants recognize difficulties
wheelchair users face even in ADA-compliant spaces.
"If a ramp is too steep, people might have to lock the
brakes on the wheelchair and rest or have someone
help them get up it," Alex says. "Sometimes even things
that are designed with wheelchair users in mind are
not well executed."
By helping people experience firsthand the challenges
wheelchair users face on a daily basis, Alex and Nathan
hope Spend a Day in My Wheels helps to create change.
"My goal is to advocate, to help people reach a better
understanding of accessibility needs and make a
change," Alex says. "Ramp access, bathroom stalls that
are truly accessible, and insurance policies around
getting a new chair—I want to educate people and help
them really understand what needs to be corrected."
Take the Challenge
Alex and the Permobil Foundation have found that
once someone spends a day in a wheelchair, they
better understand the challenges of living in a world
made for walking. If you know of a business or school
that would like to participate in the Spend a Day in
My Wheels Challenge, visit permobilfoundation.org/
spend-a-day-in-my-wheels for more information.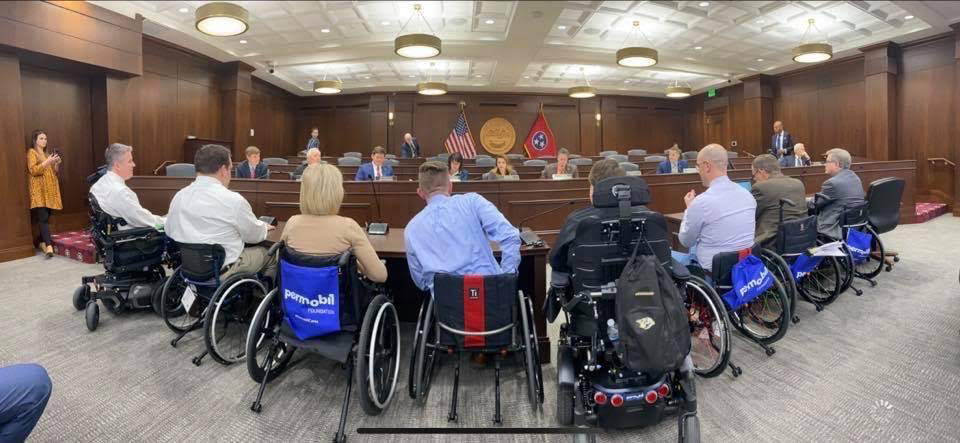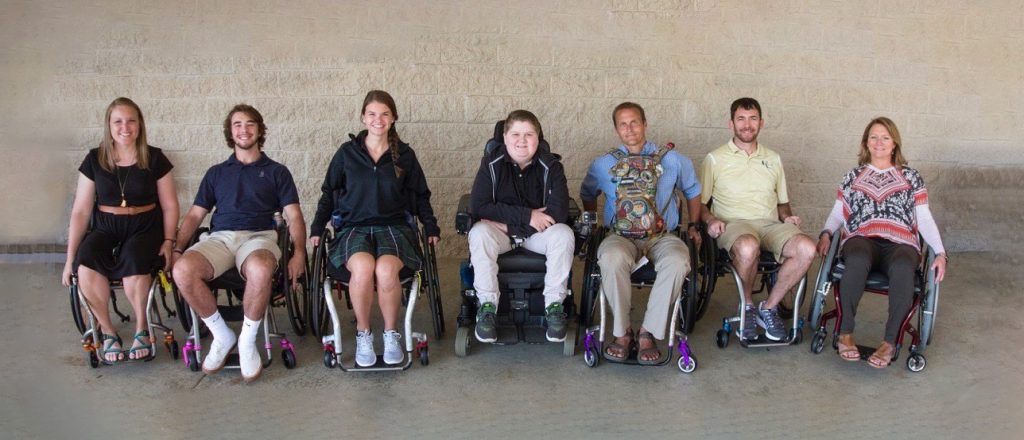 BEAUTY & GRACE
How Cheryl Angelelli is helping more people fall in love with dancing

Wheelchair ballroom dancer. Paralympic swimmer. Model. Dog mom. You could write a story from Cheryl Angelelli's Instagram profile alone. A world-class wheelchair ballroom dancer and a Paralympic medalist, Angelelli helped to found Dance Mobility, a wheelchair dancing program that offers dance lessons to adults and children with disabilities in the Detroit area.

A lifelong athlete, Angelelli started competitive swimming when she was 8 years old. At 14, while learning a new racing dive with her swim team, she broke her neck. As a C-6 quadripalegic, Angelelli found herself learning to navigate life in a wheelchair—and figured her dreams of swimming in the Olympics were over.

"I pretty much thought that my swimming career was over at that point, and I just focused on my studies and the rehab process," Angelelli recalls.

In 1996, Angelelli, then working as a journalist, traveled to Atlanta to cover the 1996 Paralympics. She'd heard about the Paralympics, but she didn't understand the elite level of the competition until she saw it for herself. She set a goal to make the U.S. swim team and compete at the Paralympics in 2000.

"That was probably a little naive because I had to learn to swim in a completely different body," she says.
But Angelelli, ranked as one of the top 10 swimmers in the world at the time, made the 2000 Paralympic swim team—then competed in the 2004 and 2008 Games. In 2014, Angelelli, now a two-time silver and bronze medalist, retired from competitive swimming. But she couldn't stay away from competition for long.

"It left a huge void in my life," she says. "I was looking for another competitive outlet, a recreation outlet, and para dance was something I knew about, so I called around to various dance studios, but no one really knew what to do with me."

A chance encounter at a speaking event led to a discovery: a nearby Fred Astaire dance studio had hired a new instructor with experience teaching wheelchair ballroom dancing. Angelelli signed up.

"It didn't take long for me to fall in love with the sport," Angelelli says. "It's just so much fun and so different from swimming."
It didn't take long for me to fall in the love with the sport.
She loved dancing so much she wanted to find a way to share it with more people. Armed with an idea, Angelelli approached the Rehabilitation Institute of Michigan Foundation with a request to start a wheelchair ballroom dancing program—and Dance Mobility was born.

"I was awarded a grant to start Dance Mobility in 2015," she recalls. "It really started as a wheelchair ballroom dancing program, but we opened it up to amputees who use a prosthetic. We've done classes for stroke survivors. It's really become an adaptive dance program for anyone with a physical disability."

Since 2015, Angelelli and her dance partner, Tamerlan Gadirov, have competed on the national and international stage, often against standing couples, with great success. All the while, she has remained committed to serving as a para dance ambassador, forming her own company in 2020 to help instructors at Fred Astaire studios across the country start their own Dance Mobility programs. To date, she's helped to kickstart programs in Wisconsin, Illinois and Indiana with plans for more.

But no matter your skill level or desire, Angelelli says Dance Mobility has a lot to offer.

"Some people who come to Dance Mobility want to compete internationally, and some just come for the recreational
aspect," she says. "Whether you're interested in competing or you just want to dance recreationally, there's a place for you at Dance Mobility." | dancemobility.org
RODEO READY
Arabelle Laddusaw, 12, has grown up around horses. With two older siblings who competed in rodeo, it was natural that the Billings, Montana, native would want to join in. Arabelle, who was born at 28 weeks, has cerebral palsy, a condition that can affect mobility, balance and posture. While Arabelle can't walk without assistance—she uses a walker and crutches as needed—she loves horses and can't get enough of rodeo.
I love rodeo because it makes me forget all my worries and my CP.
"I love rodeo because it makes me feel alive and forget all my worries and my CP," Arabelle says. "Rodeo also lets me make new friends who don't care if I'm different. I also get to be with my horses—my best friends and
soul mates!"

Arabelle's mom, Christine, a customer service representative with NSM, loves her daughter's passion for staying active. "Rodeo is just one way Arabelle stays active," she says. "She does wrestling at school and enjoys rock climbing. She just doesn't give up."

For 10 weeks each summer, rodeo is Arabelle's life. She currently competes in barrel racing and pole bending a timed event in which a horse and rider weave around six poles arranged in a line. Until recently, Arabelle has competed in goat tail tying, a rodeo event designed for kids, even winning a buckle at one competition.

"When Arabelle started rodeo, someone would lead her horse around the arena," Christine says. "She has slowly worked up to doing everything herself."

During the summer rodeo season this year, Arabelle expects to compete in one rodeo competition per week. In addition, she usually rides her horse several times a week in preparation for competitions—and, well, just because she likes it.

"She loves rodeo," Christine says. "It's great for her to feel the same as everyone else and not feel different. She just keeps going out there and getting better."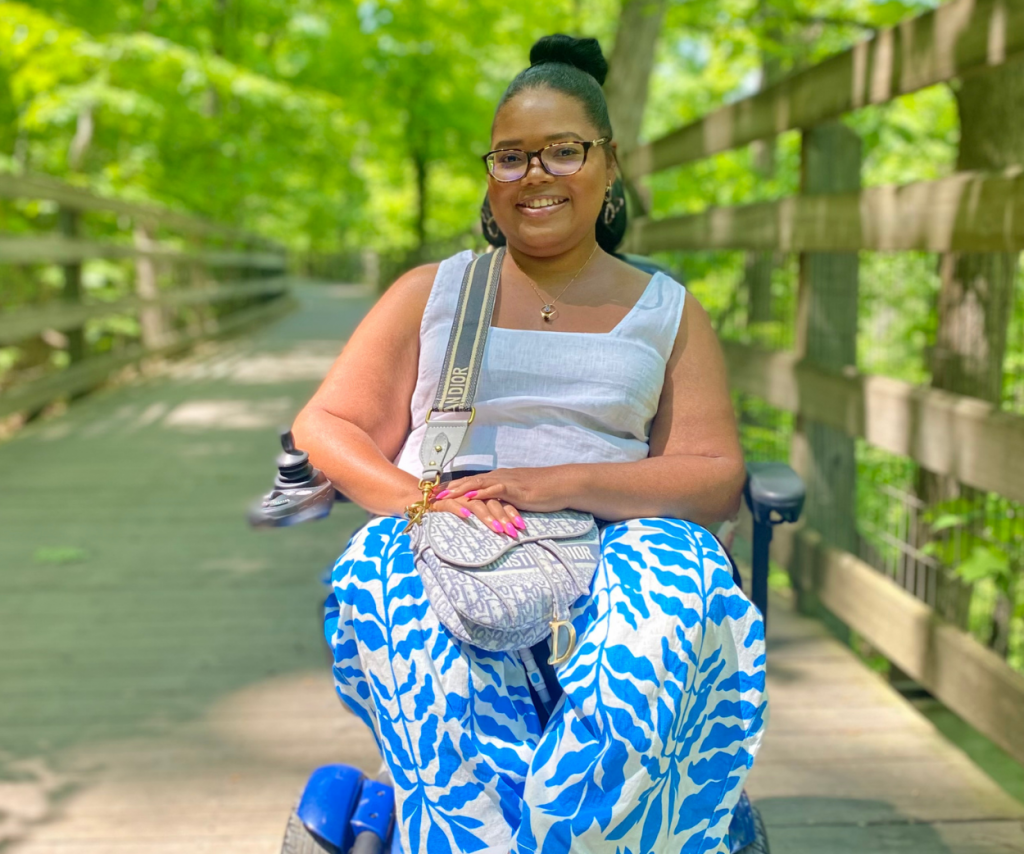 NSM client Candis Welch on using her platform and influence to advocate for the disability community Candis Welch wants to make a difference in the…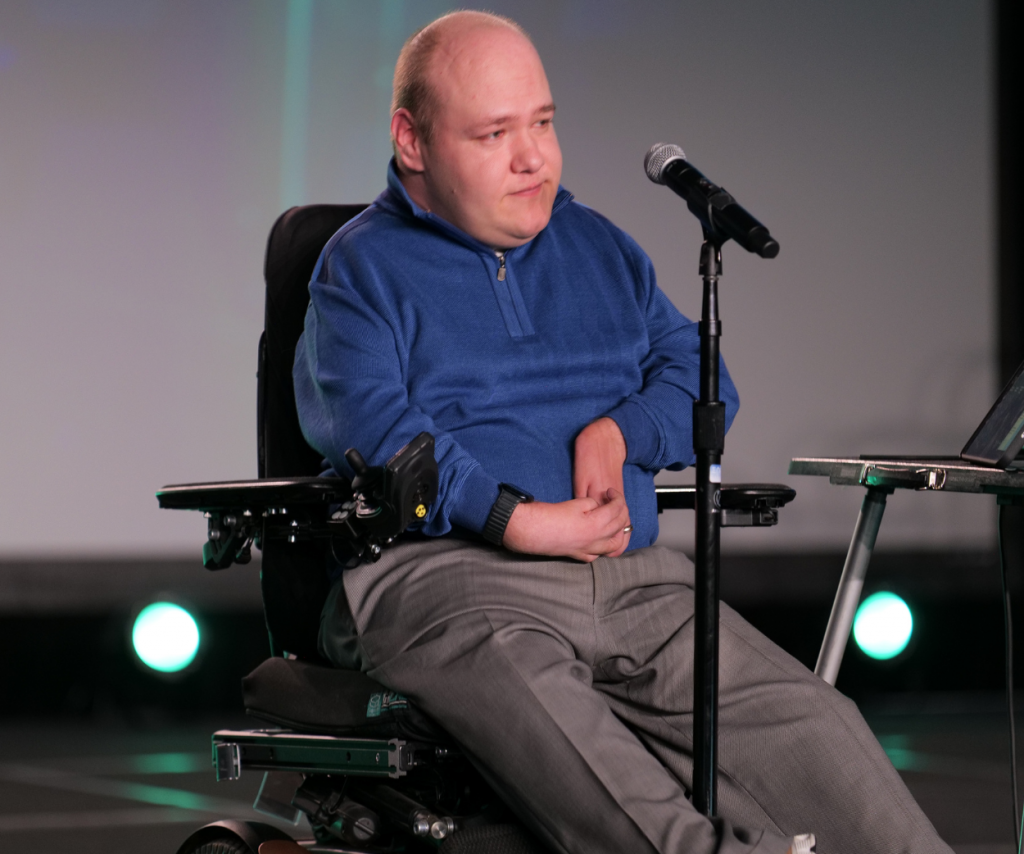 AGT's Ben Waites weighs in on why CRT matters: independence, opportunity and hope Singer Ben Waites, known for his 2022 appearance on season 17 of…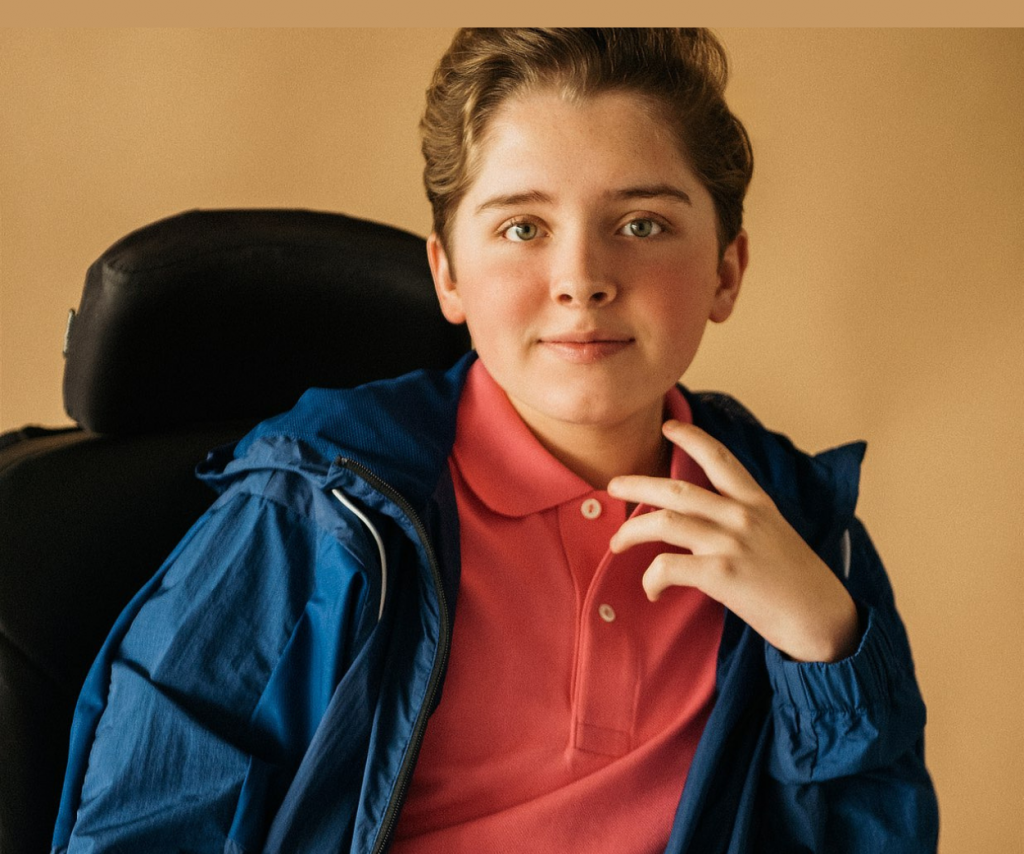 With a Netflix movie and Sundance premiere under his belt, the teenager is making acting his career Jonathan Lengel feels at home on the stage….