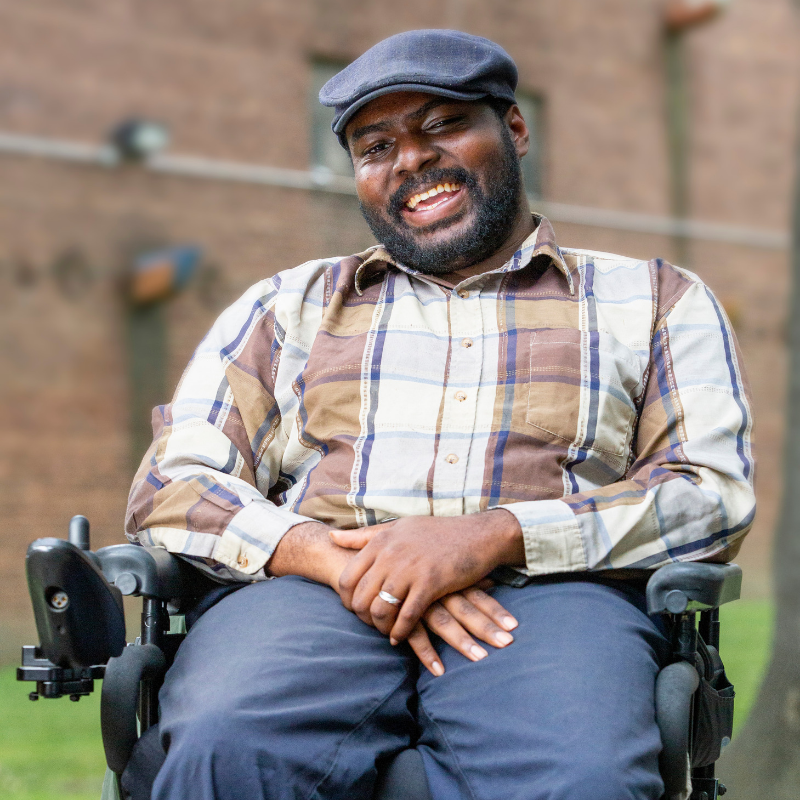 Native New Yorker Calvan Ferguson grew up the oldest of six children. At the age of three, his mother and father became concerned when he had not yet started walking. After a visit to a renowned pediatric orthopedic surgeon Dr. Alfred Grant, MD, Calvan was diagnosed with Cerebral Palsy.
Shortly afterward, Calvan visited the Bronx branch of National Seating & Mobility, formerly RehabCo, to be fitted for a wheelchair for the first time.
"If you think about how long I've been visiting them, they really are like family," Calvan said, reflecting on his relationship with the branch.
Although Calvan appreciated his relationships with his family and friends, his doctor and his branch, he longed for a different kind of relationship: a girlfriend.
"I remember being in grade school and saying it's really hard to get a girlfriend when you have a disability," said Calvan. "I gave up. I told my mom I didn't think there would be anyone out there that would love me. It was a low time for me, but I grew up in a religious family. I told God I was tired of chasing girls, and I asked Him to send someone who will chase me instead. Then he sent someone I couldn't get rid of."
Calvan's favorite doctor, Dr. Grant, proved not only to be a brilliant advocate for his CP patients, but also an expert matchmaker!
"Calvan and I met in July of 2002 while recovering at the Rusk Institute at NYU from different procedures," said Jasmine Ferguson, Calvan's wife. "We weren't friends right away; I didn't care for him at first."
Jasmine, who was also diagnosed with Cerebral Palsy at the age of three, was discharged from rehab before Calvan. He feared that meant he'd never see her again.
"I was doing rehab again in 2005, and she came back to the institute to visit the staff," said Calvan. "When she found out I was there, she started stalking me," he jokingly added.The two had their first date right there in the Rusk Institute.
"We spent a lot of time together while he was recovering, and I became quite fond of him," said Jasmine.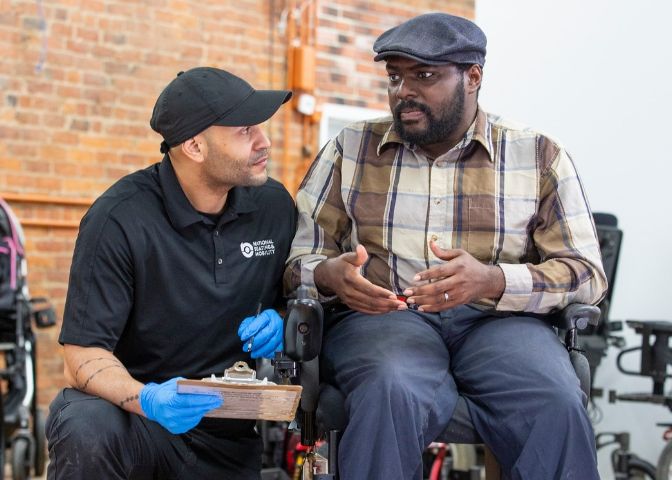 Since then, the pair has welcomed two children into their family. They were married in 2017.
"She was able to visit someone with no money and no clothes. I was just in a hospital gown," said Calvan. "If anyone would stay with me through thick and thin it was her. When we got married, I knew I was getting a sweet deal. She has my back and is on my team 100% of the time."
The Fergusons enjoy seeing movies, going out to eat, attending church together and visiting with their large extended family. They attribute the ability to maintain their busy schedule to the employees of NSM's Bronx branch, where they are now both clients.
"We are very busy people," said Calvan. "It's not like you go to therapy or school then head back home. You do this, then that, then whatever else your chair can do. You need people who will be there, who will care about you and who will give you the respect you deserve. Anything I'm able to do, I owe to NSM."
A pivotal moment in Calvan's life happened after family time with Jasmine and their oldest son, Jobe. While returning to his home in Manhattan, Calvan was hit in an intersection by an SUV with the headlights turned off. Miraculously, he remained unscathed.
"That chair was so sturdy, so well put together, the frame of the chair was bent but nothing happened to me," said Calvan. "I don't know many people who get hit by an SUV and have no injury to show for it."
Calvan recalls his phone call to the NSM branch following his accident.
"I called the branch the next day and told them what happened. They never gave me the talk about how this should've should have been avoided, or you shouldn't have been alone, they just asked what's wrong with the chair and asked how they can help," said Calvan.
Both Calvan and Jasmine are grateful for the care, humanity and respect they are shown during branch visits.
"Regardless of whatever this life can put you through, especially with a disability that requires equipment, you have to have a place to go that will help you reach your next goal," said Calvan. "For me, the NSM Bronx branch is that place."
We're proud to help Calvan and Jasmine stay on the move. The pair celebrated their two-year wedding anniversary in July of 2019 and hope to soon take their two children on the same Bahamian cruise on which they celebrated their honeymoon.