Make Way for the Mighty Pens
How the University of Pittsburgh and University of Pittsburgh Medical Center support adaptive sports
BY Mandy Crow
When John Fitzgerald gets on the ice to play hockey, he feels unstoppable. "When I'm on the ice, I don't think I have a disability at all," says Fitzgerald, a member of the Mighty Pens sled hockey team in Pittsburgh, Pennsylvania. "When I'm on the sled, nothing's there to stop me."
Fitzgerald, who has cerebral palsy, has been a member of the team for three years. Using his dominant right hand, he "kayaks" down the ice and loves playing defense. When people find out that Fitzgerald plays hockey, they often ask who pushes him on the ice. "Me," Fitzgerald retorts with a laugh. "I push myself down the ice!"
Seeing the Benefits
Fitzgerald's sled hockey team is one of several adaptive sports programs supported by volunteers from the University of Pittsburgh and the University of Pittsburgh Medical Center. Ranging from wheelchair basketball teams to handcycling and other sports, physicians, professionals and students within the Department of Physical Medicine and Rehabilitation are dedicated to serving players and their caregivers.
"Adaptive sports help individuals with disabilities to
see that they can have a successful, happy life."
Dr. Shaun Darrah first got involved with the sled hockey team during his fourth year of medical school at the University of Pittsburgh. Darrah grew up playing hockey and jumped at the chance to volunteer with the sled hockey team. "I was working with a resident who volunteered with the team," Darrah recalls. "I went to one of the practices and that was my introduction to sled hockey."
Very quickly, Darrah realized how beneficial adaptive sports are for the players and their families—emotionally and socially as well as physically. It's something Dan McCoy, a longtime Mighty Pens player and a gold medalist in sled hockey at the 2014 Paralympics,
understands very well.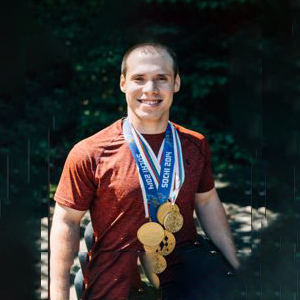 "Adaptive sports and adaptive fitness help individuals with disabilities and their families to see that they can have a successful, happy life and do everything their body allows them to do," said McCoy, now a member of the Mighty Pens senior team and a personal trainer with UMPC's spina bifida clinic.
Changing Perspectives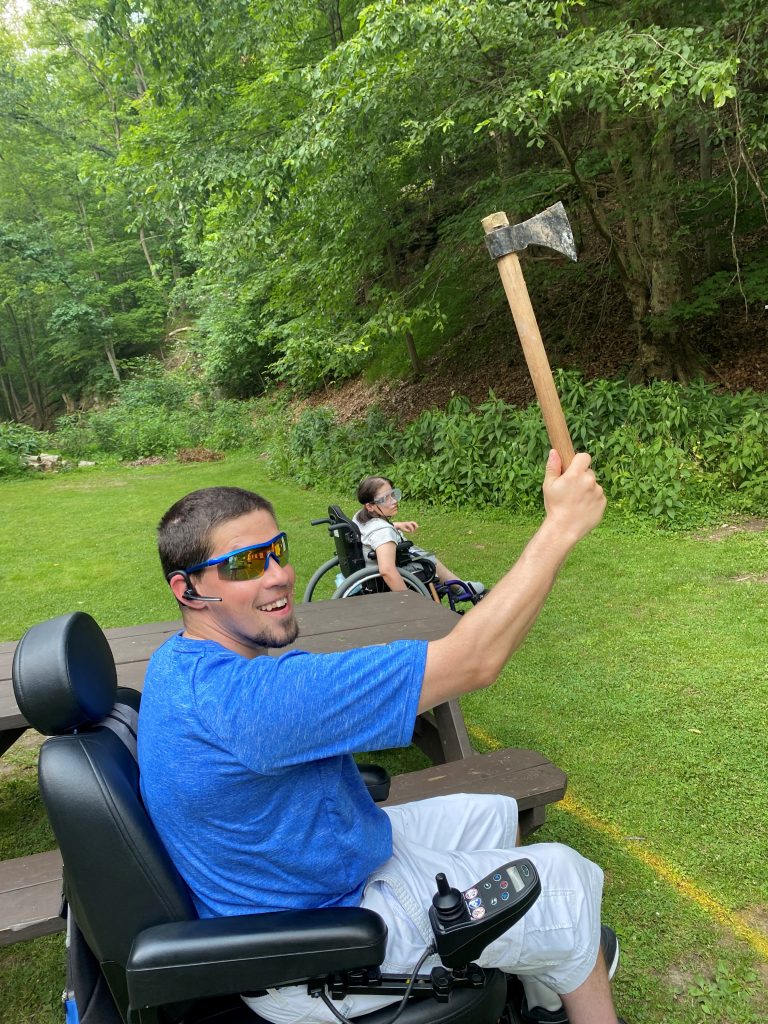 Whether they're playing recreationally or at the highest levels of the sport, players like Fitzgerald and McCoy love all the sport has to offer. "It's a lot of fun," says Fitzgerald, who also participates in axe-throwing and a variety of other sports. "It helps people to see what else is there beside stand-up hockey."
McCoy, who currently serves as assistant coach and the director of player development for the Mighty Pens senior team, agrees.
"Sled hockey players aren't fragile…
and it's good to get that perspective."
"When you're on the sled and playing full contact hockey, it gives you a different perspective about what you can and can't do," he says. "Sled hockey players aren't fragile—and it's good for the players, spectators, parents and students to get that perspective."
Funding the Team
Despite the benefits, adaptive sports can be expensive. "A lot of the players have medical needs that necessitate a lot of doctors' visits and mobility equipment and that's all very expensive," he says. "But ice time is also expensive—and
so is the cost of the sleds, sticks and travel expenses." Recognizing this barrier, Darrah and his resident devised a plan for the Department of Physical Medicine and Rehabilitation to begin supporting the sled hockey team financially. Most of the funds are raised through a charity game held each year, with the Mighty Pens players taking on the physicians. The event has been paused during the pandemic, but it's something Darrah continues to look forward to. "I look forward to planning and participating in the event every year," Darrah says. "It is a great opportunity for us to get on a sled alongside the players and let them showcase their skills."