Welcome to the NSM Monthly Minute
August 2021 | In This Issue:
Join Us at the NCART & NRRTS Virtual Fly-In on September 21, 2021
Podcast | Required Documentation & Payer Policies: New Equipment & Repair Orders
Monthly Product Showcase | Featuring Peace of Mind Technology
Client Spotlight | SMA2 Warrior Oliver Schaper
Join Us at the NCART & NRRTS CRT Virtual Fly-In on September 21, 2021
National Seating & Mobility is proud to be a Premier Sponsor of this year's NCART and NRRTS CRT Virtual Congressional Fly-In. This event allows CRT suppliers, manufacturers, clinicians, consumers, and others to meet directly with their Members of Congress. It is the ideal opportunity to share the message of needed actions to protect access to CRT for people with disabilities.
What Are We Asking Congress For?
To Better Understand the Unique Nature of CRT and Why Access is Important
To Support the Request for Medicare Coverage of Power Seat Elevation and Standing System
To Take Actions to Protect Needed CRT Funding at the Federal and State Levels
To Ensure Physical and Occupational Therapists Can Permanently Use Telehealth When Needed
All event sessions and Congressional meetings will take place virtually via Zoom.
Once registered, NCART/NRRTS will match you with your own Congressional district and will schedule your meetings for you. Talking points and other information for your meetings will be provided during the mandatory prep webinar on September 14. There will also be state practice sessions with your state team on September 20 so you can feel fully prepared and ready to make the most of your meetings on September 21.
Click the link below to register for the Fly-In and join us for this important CRT advocacy event!
Required Documentation & Payer Policies: New Equipment & Repair Orders
The time it takes to provide a Complex Rehab Technology wheelchair and seating, which by definition are medically necessary, can be frustrating for consumers, clinicians, suppliers and referral sources. More frustration over long wait times can also occur when that medically necessary wheelchair needs repairs. National Seating & Mobility's Gerry Dickerson and Charles Sargeant discuss why these delays continue to happen, and how streamlining the equipment provision and service system can benefit all stakeholders, including funding sources.
Monthly Minute Archive
Click 'Expand' to Access Past Issues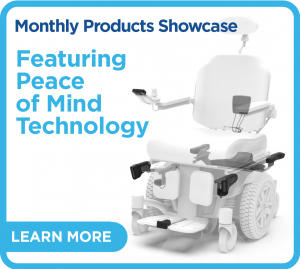 Monthly Products Showcase | Featuring Peace of Mind Technology
Each and every day power wheelchair users face an infinite number of challenges, but safety does not have to be one of them. From LUCI's smart technology platform giving power wheelchair users unparalleled stability, security and connectivity to Braze Mobility's patent-pending blind spot sensors that can be added to any wheelchair, it is possible to obtain peace of mind.
As with anything these days, the different levels of technology can dictate cost. In some cases, you may be able to receive assistance from your insurance company. Many people crowd fund items like this, or there is always Care Credit.
Below we explore these groundbreaking safety products further.
LUCI is a hardware/software platform that fits onto an existing power wheelchair and utilizes a patented sensor-fusion safety system combining data from cameras, ultrasonics and radar into a single, 360- degree view of the world. The technology works with a chair user's steering inputs and reaction times to create a customized, safer driving experience, providing collision avoidance, drop-off protection and anti-tipping alerts. LUCI also provides cloud-based communication and alerts via a MyLuci portal, available to users in the Apple and Google Play app stores. The portal allows riders to view their data and share select information such as location and low battery notifications with trusted family, friends and caregivers. Click the links below to learn more about this groundbreaking technology.
Contact your local NSM branch or representative to learn more about this product.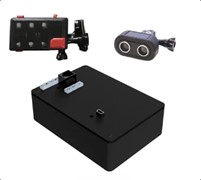 Braze Mobility's Blind Spot Sensors for Wheelchairs is the world's first patent-pending blind spot sensors that can be added to any wheelchair, transforming it into a "smart" wheelchair. Our system provides multi-modal alerts to the user regarding location and proximity of obstacles through intuitive lights, sounds, vibrations.
Contact your local NSM branch or representative to learn more about this product.
Client Spotlight: SMA2 Warrior Oliver Schaper
Five-year-old Oliver Schaper loves speed. It is common to see him doing laps around the ball field, plowing through puddles or barreling toward or away from his mom or dad in his 350-lb power wheelchair, grinning from ear to ear. Oliver received his first custom fitted power chair three years ago. And, he's been racking up the miles ever since.
Oliver's mother Misty calls him a charming, determined SMA2 warrior. Both, Misty and her husband, Oliver's father, Keith Schaper, are resilient and strong veterans. However, when they received Oliver's SMA type 2 diagnosis last spring, when he was only 14 months old, their world was rocked. For two months, time seemed to stand still as they researched the disease they knew nothing about. SMA (spinal muscular atrophy) robs individuals of physical strength by affecting the motor nerve cells in the spinal cord, taking away the ability to walk, eat, or breathe. It is the number one genetic cause of death for infants. Research led the family to Cure SMA, an organization dedicated to the treatment and cure of SMA, now one of their trusted resources and networks.
Around two months following his diagnosis, Oliver received his initial treatment of Spinraza, the only approved therapy for SMA, completing his loading doses over the summer and a maintenance dose this fall. The family is hopeful that the movement and strength he's gained as a result will continue to improve. Between treatments, they continue to do the things they enjoy together including bike rides, park visits, swimming, kayaking and now camping after they took their first camping trip since Oliver's diagnosis.
Oliver's favorite person on the planet is his big sister, Elliott, his fierce protector and advocate. They love to race, play chase and tag, Oliver in his chair and Elliott in her toy 12v gator. Oliver is sweet, polite and never forgets a thank you. He is also determined, and adaptable, always figuring out ways to work with his body's limitations. Misty and Keith are amazed to watch their fearless little boy continue to push through limits. Friends and family in nine U.S. states and in Mexico are pulling for his progress and raising awareness of SMA as proud members of "Team Oliver." Oliver loves to make others smile. He may not be aware how much he's inspiring his parents, friends and family to focus on and appreciate the now.