Nuprodx Shower Chair Sliding System
A commode chair, shower access slider system, and in-home mobility chair in one complete unit. Requiring just one bedside transfer, the Nuprodx Shower Chair Sliding System eliminates the need for transfers onto toilets and into step-in showers in the dangerous bathroom environment. Narrow profile allows the chair to slide back through narrow shower door entries, after which the chair can be rotated on the turntable and locked into place to face the shower head. Safe and convenient, the system includes the smoothest rolling transfer system available on the market.
Features of this model:
Eliminates bathroom transfers and is an effective alternative when installing a roll-in shower isn't possible or affordable
Under 22" wide with a rotating base, it easily gets into small, hard-to-access bathrooms and showers
Fold-back padded locking arm rests and adjustable swingaway/removable footrests ease transfers and improve comfort
5″ casters with Total-Lock brakes prevent rolling and swiveling
High-quality soft and comfortable padded seat and back cushions
Seat height adjusts over the highest toilets required by the ADA
Removable locking bridge section available in optional lengths
Won't rust or corrode: Aluminum, brass, stainless steel and Delrin construction—it's going to last!
Want this for your home? Call Now!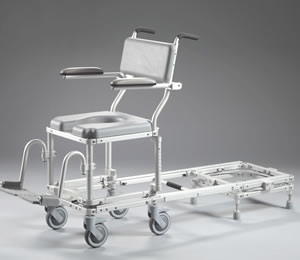 No matter your mobility need, we have innovative products and a reliable team of experts to keep you moving so you can enjoy life to the fullest - wherever it takes you. Send us a message and we'll get back to you as soon as possible.