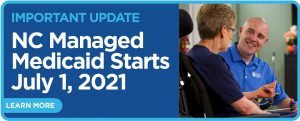 NC Managed Medicaid Starts July 1, 2021
As you have likely heard, North Carolina Medicaid is shifting to Managed Medicaid starting July 1, 2021, and, as your partner in mobility, National Seating & Mobility is here to ensure your patients continue to get the independence and support they deserve.
NSM has been communicating with Medicaid and the commercial carriers who will be managing the Medicaid coverage regularly so we can anticipate and have a plan to mitigate gaps of care and ensure timely provision of your patients' mobility devices and adaptive aids.
What you should know about wheelchair and adaptive aids provision during this change:
NSM has your patients covered!  NSM is in network with all the health plans that will be managing North Carolina's Medicaid program.
 Enrollment options:
Beneficiaries will have six health care options to choose from when they enroll, based on the region in which they live:
WellCare
UnitedHealthcare Community Plan
Healthy Blue
AmeriHealth Caritas
Carolina Complete Health
EBCI Tribal Option(PCP only)
Open enrollment was May 14th- May 21st to select a plan. If a plan was not selected, your patient will be auto enrolled into a plan based on available plan options in their county.
What to expect:
July 1, 2021 – Medicaid Managed Care launch
The MCO Health Plan's must honor existing and active prior authorizations on file with the North Carolina Medicaid or NC Health Choice for the first ninety (90) days after implementation to ensure continuity of care for members.
Out of network providers will be treated as in network only during the first 60 days of the transition for any open orders and reimbursed as they were with NC Medicaid FFS, then clients will need to work with in network providers.
Who does not need to select an MCO plan?
Some people will not need to choose a health plan because of the type of health services they need. They will stay enrolled in NC Medicaid Direct. For example, individuals who get Innovations Waiver services, Traumatic Brain Injury (TBI) Waiver services, or Community Alternatives Program for Children (CAP/C) or Community Alternative Program for Disabled Adults (CAP/DA) services will stay enrolled in NC Medicaid Direct. If you qualify, you can choose the EBCI Tribal Option and keep getting waiver services.
Beneficiaries have 90 days after the effective date of initial enrollment to change their Health Plan or PCP for any reason.
Exempt populations:
Members of federally recognized tribes
Excluded populations:
Beneficiaries dually eligible for Medicaid and Medicare
Program of all-inclusive care for the elderly (PACE) beneficiaries
Medically needy beneficiaries
Beneficiaries eligible for only emergency services
Presumptively eligible enrollees during the period of presumptive eligibility
Health insurance premium payment (HIPP) beneficiaries
Family planning beneficiaries
Prison inmates
Registration Now Open for NSMCares Symposium | October 20, 2021
NSM is excited to bring you a day full of complex rehab technology experts sharing the latest in mobility innovation and therapeutic best practices. NSM Cares Symposium will take place on October 20, 2021 EST at SMS Catering in Charlotte, NC. This event will provide attendees 6 CEU hours for PT, PTA, COTA, OT and ATP credentials.
Event Program
8:00- Registration & Continental Breakfast
8:30-10:30-Optimizing a Wheelchair – Taking Advantage of the Technology to Get the Best Outcomes, Now and In the Future-Curt Prewitt MS,PT, ATP - Director of Education- Ki Mobility
10:30-11:00- Vendor spotlights
11:00-12:00- A Case for Excellence-Manual (.1 CEU, 1 contact hours)-Jennith Bernstein PT,DPT, ATP/SMS- Regional Clinical Education Manager- Permobil
12:00-1:00- Lunch provided by NSM, Vendor spotlights
1:00-2:00- A Case for Excellence- Power (.1 CEU, 1 contact hours)-Jennith Bernstein PT,DPT, ATP/SMS- Regional Clinical Education Manager- Permobil
2:00-2:30- Vendor spotlights
2:30-4:30-Clinically Speaking – A Practical Guide to Evaluation and Documentation for Power Seating Options (.2 CEU, 2 contact hours)- Jay Doherty OTR, ATP/SMS- Director of Clinical Education- Quantum Rehab
Special thanks to our sponsors:
Permobil,
Sleep Safe Beds
Ki Mobility
Logantech Speech Devices
Easystand
Meet Your NSM ATPs | Amy Eby, COTA/L, ATP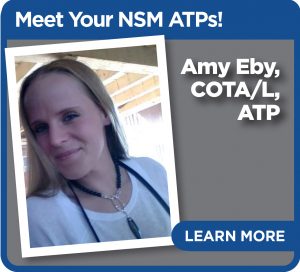 Amy Eby COTA/L, ATP is a new member of the National Seating & Mobility team for North Carolina. She was born and raised in the Midwest. Prior to joining National Seating & Mobility, Amy worked as a COTA for 10 years where she managed two therapy teams. She created and implemented Power Wheelchair assessments, was a Level 2 clinical instructor, assisted in developing new communication and organizational systems between therapy and interdisciplinary staff in multiple SNFs. Amy has also developed and managed outpatient urinary incontinence programs, and has extensive continuing education on holistic therapeutic approaches.
To staff a client or scenario with Amy, or discuss clinical benefits of seating and mobility equipment call 704.333.8431, or email Amy.Eby@NSM-Seating.com.
Amy has joined our Charlotte Branch but will be joining the Winston/Salem location when it opens in the coming months.
Your NSM Team Supporting North Carolina and South Carolina:
Call your closest branch to start the process for new home modifications, adaptive aids or mobility device.
North Carolina
Asheville - 828.277.2577
Dennis May, ATP
James Drechsel, ATP
Jim Parnell, ATP
Mike Edney, ATP
Charlotte - 704.333.8431
Alex Claywell, ATP
Amy Eby, COTA, ATP
Tabatha James, OTR/L, ATP
Joshua Cowles, RTS
Robert Flanagan, ATP
Greensboro/Winston Salem - Coming Soon!
Raleigh - 984.232.6471
Doug Walter, ATP
Gordon White, ATP
Jeff Tutor, ATP
Travis Stephens, ATP
South Carolina
Charleston - 843.737.5756
David Kascak, ATP
Jim Spencer, ATP
Columbia - 803.799.1133
Archie McPherson, ATP
Steven Still, ATP
Steven Ward, ATP
Greenville - 877.924.2477
David Adcox, ATP
Jeff Hennessee, ATP
Keeping Your Clients Moving with Lifts
We believe everyone should have access to life. That's why we offer a wide array of lifts designed to keep you independent at home and beyond.
Stair Lifts
Surveys show 70% of individuals would prefer to age in place in the comfort of their own home.  Accessing up stair bedrooms and bath may be a barrier to keeping the home they love.
NSM can evaluate your home for safety to reduce risks of falls and can install stair lifts that can be fitted to any existing staircase so you can move up and down your stairs with comfort and safety. Each of our indoor and outdoor stair lifts are compact, ergonomically designed and made to last.
Concerned about the upfront cost of purchasing a stair lift or the commitment of purchasing?  No problem! We offer stair lift rentals with a reasonable monthly rate as well as installation and repair.
In-Home Personal Lifts
The risk of injury to care providers is high and often these injuries occur during transfers from bed to wheelchair or wheelchair to bath systems.  In-home personal lifts reduce risk of injury to care providers while also supporting activities of daily living for the individual.  From freestanding to fixed overhead lifts, portable motors to slings, NSM can provide the right lift technology to support your home and lifestyle.
Vehicle Lifts
We believe mobility challenges shouldn't keep anyone from enjoying the world beyond their front doors. Vehicle lifts allow mobility device users to fully experience life the way they want by empowering them to go wherever the road may be calling them. No matter the vehicle, NSM offers powerful lifts ranging from economical to high-tech options to suit each person's needs.